1. VESNA JACOB, HOLISTIC WELLNESS INSTRUCTOR
Pilates is the only form of exercise that talks about the body as a unit, and not as a sum of parts. Hence, it focusses on the centre of the body (i.e. the core) and not the periphery. Pilates helps you correct postural imbalances, strengthen your core, and in the process gives you the toned, lean body you desire for your wedding. Brides-to-be need to give time to the form and begin by getting their postural assessment done. As a holistic fitness professional, I believe that our body, mind, soul, and desire has to come together to achieve the desired results.
Bodyism metallic yoga mat, Rs.10,500, ban.do yoga mat, Rs.2,100, Tory Burch Sport mesh tank top, Rs.10,500, Decléor Harmonie Calm Soothing Light Cream, Rs.2,700, L'Oreal Professionnel Mythic Oil Huile Richesse
2. SUCHETA PAL, ZUMBA GLOBAL BRAND AMBASSADOR AND TRAINER
Being a bride is one of the most beautiful moments. At the same time, it is coupled with a lot of stress and force-feeding by excited relatives. With Zumba, you can release happy endorphins and also get toned. It incorporates simple dance moves and amazing music from 185 countries and thus gives you a happy high. A bride-to-be can also drag along her bridesmaids and turn a session into a dance party, burning 800 calories as a side effect. Zumba incorporates two fitness benefits, which is improved muscular endurance and cardiovascular health thus getting you wedding-ready in a fun way.
L'Oréal Paris Infallible Sexy Balm in We Wear Pink, Rs.499, Puma x Fenty by Rihanna trainer, Rs.12,999, Manduka Yoga Mat Wash Spray in Lavender, Rs.750, Clarins Super Restorative Treatment Essence Lotion, Rs.3,742, Perfect Moment starlight printed stretch leggings, Rs.19,000.
3. YASMIN KARACHIWALA, CELEBRITY FITNESS TRAINER
 Every bride wants to lose weight, get toned, and look good for her big day. As a result, many turn to intense diets as a quick fix.  The key is not to starve but eat the right kind of vegetables and proteins and exercise right. I like working with brides for a minimum of five weeks before the big day to get the desired results. Turn to a workout, which is a mixture of Pilates and functional training with cardio incorporated into it. Add a circuit routine comprising of the leg, abdominal, pushing, pulling, and cardio exercises to keep things interesting, and not let boredom set in.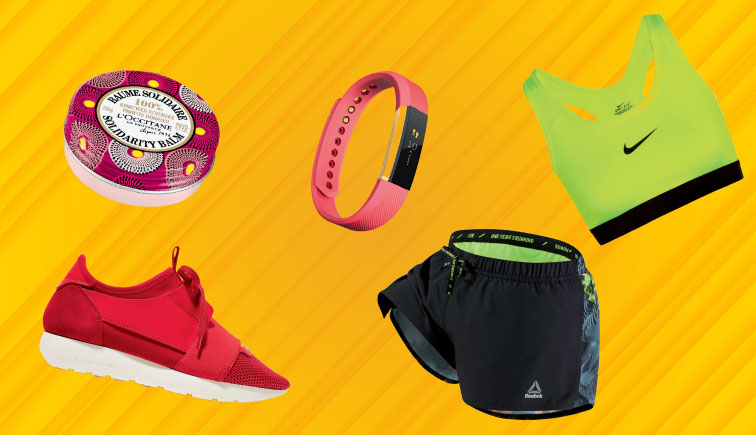 Nike jersey sports bra, Rs.3,900, Fitbit Alta fitness tracker in Pink Gold, `16,999, Reebok board shorts, Rs.2,499. L'Occitane en Provence Shea Violet Solidarity Lip balm, Rs.1,050 (20 gm), Balenciaga shoe
Image Courtesy: Balenciaga, Tory Burch Sport, MZ Wallace, Perfect Moment, Bodyism: Netaporter.com and Clarins: Parcos, Verb: Sephora.com.