Your wedding is one of those memorable affairs that will stay with you for a long time. So it's natural that you want every aspect of it to be as perfect as possible—from picking the venue to gram-worthy backdrops, your bridal trousseau, and the all-important wedding ensemble. And to top it all off, as you walk down the aisle towards your happily ever after, you want the perfect mandap to say your vows. 
If you're looking for some inspiration, we have plenty of them from recent celebrity weddings—from the minimalist set-up done for Alia Bhatt and Ranbir Kapoor's nuptials to Anushka Sharma and Virat Kohli's gorgeous European-inspired floral mandap. 
We spoke to experts on creating unconventional décor for wedding mandaps that will not only cater to your aesthetic but make for photo-worthy moments as well. 
Play around with colours and textures for your floral décor 

According to Anuja Joshi, co-founder and CEO of Interflora India, a bespoke floral décor firm which has catered to several celebrity weddings such as the Sidharth Malhotra and Kiara Advani wedding reception and Alia Bhatt and Ranbir Kapoor,'s nuptials when decorating mandaps with flowers, there are a few things to keep in mind. "Pick a theme and design your florals around it. Colours and textures can be played around with as well," she says. Dry grass, shola flowers, plants and the cascading, organic English garden look are a few things that we have been asked for quite often, she offers, adding that they are noticing a shift towards organic and wild elements. "While our clients still want opulence and sophistication, they also want to experiment with the use of foliage, wild elements and flowers."
 
She suggests innovating with the structure with cascading florals, using foliage, or even having an organic garden surrounding the structure. You can innovate by opting for a risqué colour palette, mixing textures, or even going avant-garde with your blooms.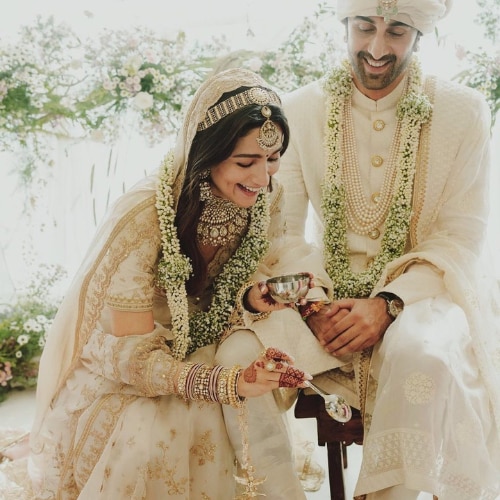 When it comes to colour palettes that are trending, there are two ends of the spectrum. "One is the simplistic and minimal colour palette of whites and greens, while on the other end is a more experimental palette featuring deep ruby hues, pinks and reds." 
Skip the traditional four-pillar mandap
According to Saanya Sharma, co-founder, Three Entertainment, an event management and décor company, nowadays mandaps don't necessarily have the traditional four-pillar set up and wedding planners are instead giving these an interesting twist by playing around with arches and florals for the backdrop—one that is almost inspired by white weddings. 
Not just that, there are concepts like origami flowers and live-sized artificial cloth flowers that have become extremely popular along with mandaps featuring crystal-studded chandeliers or even an 'inverted tree of life' that symbolises the couple's new journey together. 
"Couples want to take not just their wedding designs but also their mandap décor a notch higher. We're seeing a shift towards a larger-than-life context with dramatic chandeliers, bells, quirky drapes, tassels and more," offers Sharma. 
Lastly, using paper or cloth flowers is another great way to be sustainable for your decor. Not only are they eco-friendly, but they can also be beautiful and unique. And if couples are feeling really creative, they can even make their own decorations using materials like jute or cane, or incorporating fruits into the decor arrangements.
Make sure the wedding mandap is in sync with your aesthetic
While trends are all good, at the end of the day it's important to stick to what works for you as a couple and your aesthetic. "Make sure to select a mandap style and colour scheme that complements the venue and overall aesthetic of your wedding," suggests Prerika Puri, founder of To the Aisle, a boutique wedding design company. "It's all about thinking outside the box and letting your imagination run wild to come up with ideas that truly reflect your personal style and taste."
She gives a recent example of a wedding they executed in Goa that involved creating a life-sized leaf crafted by local artisans over the course of two months. "Our inspiration came from the property itself. We saw these beautiful, giant leaves, and even spotted two birds taking shelter under them. We decided to recreate that same feeling for the couple by making a life-sized leaf for the mandap, with a water wall suspended from the top of the leaf. For the aisle of the mandap, we decided to opt for a coral theme. We sourced flowers from Holland to find ones that looked just like corals. It was a really unique and stunning setup," says Puri. 
 
Images courtesy: brands