Your wedding's done, and now you can finally put your feet up and relax. A honeymoon by the beach sounds like the perfect way to unwind with your spouse post the stress and exhaustion of planning a wedding. But packing for a vacation can quickly get just as stressful—how do you fit in a week's worth of outfits in just your carry-on bag? Is there something important that you're forgetting?
When it comes to a beach honeymoon, we've taken the guesswork out of packing for you. From carrying extra beach towels to waterproof pouches, this handy list is all you need: 

SPF, including a lip balm with SPF too!

A must for any time you're stepping out, sunscreen is especially important when on a beach vacation—you tend to spend more time in the sun, and are more likely to get sunburnt. Don't forget your lips—pack a lip balm or gloss that has at least SPF 20. 

A pair of shades
This is a no-brainer, but you'd be surprised how many people forget to actually carry sunglasses, owing to that last-minute rush to pack. A good pair will help keep the glaring sun out of your eyes—much important for that afternoon siesta on the beach! 

Insect repellent

Seaside towns are synonymous with bugs of all kinds—mosquitoes, sand fleas and what not. To avoid bug bites, carry a trusty repellent or spray that's skin-safe to keep any unwanted insects at bay. 

Aloe vera gel for sunburns

Picture this. You've diligently applied SPF but missed a spot and now you have an angry red sunburn that needs immediate attention. Enter: aloe vera gel. A dollop of the refreshing formula will soothe any inflammation and itching. 

Sarongs and kaftans for cover-ups

Beach holidays are the perfect time to bring out those cute swimsuits that you've been wanting to flaunt, but don't miss out on the all-important cover-up. Sarongs, kaftans and even relaxed shirts make for chic beachwear, and will help you go from the beach to lunch without needing an outfit change!

A large beach bag or tote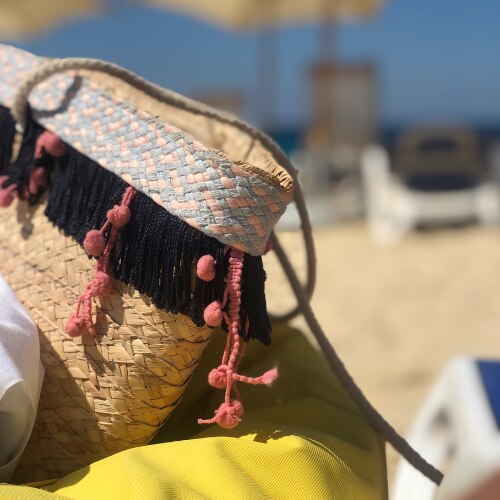 You can't go on a beach holiday without a sturdy (preferably water-resistant) tote in tow. Everything from your shades, your SPF stick, emergency snacks, flip flops, to your beach read need to be stored in a dry and safe place, and this is where a large beach bag comes in handy. Get one that has compartments , so you don't have to turn the contents of your tote upside down to find your earphones. 

A beach hat 

Apart from slathering your skin with sunscreen, a wide beach hat is one more shield that will protect you from the harsh tropical sun. Pick one in a neutral shade that will go with all your outfits, and even elevate your look!

Extra beach towels (you can never have too many)

Most resorts and hotels will provide a set of clean beach towels for you to use, but on the off chance that they don't or you run short, it would be wise to carry extra. Pick lightweight ones that won't take up much space in your luggage. 

Waterproof pouches for storing electronics

A lot of electronic items, like phones, are water-resistant these days but it's always best to be cautious. Carry Ziploc packs or other waterproof pouches in your backpack where you can safely stash your phone, camera and smart watches when going for a diving session or even when you're just lounging at the beach. 

Waterproof laundry bags 

While these are useful for all vacations, they are an absolute must for a beach getaway. If you're not making use of the resort's laundry service, then you'll need to store your soiled clothes carefully—the worst nightmare is to have damp clothing leave a trail of sand in your travel case! Large, waterproof bags will ensure your used outfits don't mingle with clean ones. 
Lead image: Unsplash