1. The Oberoi Rajvilas, Jaipur, India: Rajput luxury to pamper you senseless.
Step into a sprawling courtyard from a bygone era, recreated with royal villas with private swimming pools, luxurious tents, rooms, gardens, and orchards evoking a mystical ambience, traditional Rajasthani music, and dance reverberating within the fort walls and along its columns, and the scent of jasmine in the air. The 'Kohinoor Villa' is the prized jewel in the hotel's crown, it's sumptuously appointed accommodation emulating the lifestyle of Rajput princes. Cross a small moat and bridge to reach the your private oasis of luxury with a private pool, open-air tropical gardens, and sunken marble bathtubs making your first night as a married couple majestic. Before you plunge into your romantic escapade, experience renewing your marriage vows with a priest presiding over a Hindu ceremony at the hotel's 280-year-old Shiva temple. Your guests can indulge in authentic Rajasthani wedding couture from boutiques within the Oberoi Rajvilas itself. The hotel can curate a luxurious Charbagh dinner while you enjoy sunset views at the nearby Naila Fort.
2. Park Hyatt Sydney, Australia: Beaches, wine, and food—a recipe for relaxation.
A luxe stay in the Sydney suite of the Park Hyatt in Sydney offers a two-bedroom spread of luxury opening up to a private outdoor terrace overlooking the iconic Sydney Opera House and Harbour Bridge. You do have to pay a price for it, however, the panoramic view of the stunning city the suite offers is priceless! Honeymooners looking to maximise their entertainment can explore the vibrant Rocks village with its cobbled pathways, museums, and luxury boutiques. Park Hyatt chefs and sommeliers bring you food and wine events that are second to none. The hotel's rooms and corridors pay homage to Australian art and Aboriginal history which you can admire while holding each other's hand.
3. Milaidhoo Maldives Resort, Maldives: The time is now and this is our barefoot love story.
Turquoise waters and white sand beaches are nothing new to a paradise like the Maldives. From the perspective of breathtaking views on offer, the Milaidhoo Maldives Resort seamlessly balances the outdoor and indoor life. Each villa opens up 180 degrees to invite in natural elements, and offers fantastic views of the Indian Ocean surrounded by a vibrant coral reef. Experience the best in Asian hospitality with a dash of barefoot informality to make your destination wedding a fairy tale event. Wake up to tropical sunshine as you start your married life! A barefoot stroll will lead you to three world-class restaurants where the chefs focus on light food and clean flavours. You could also opt for unique experiences like dolphin cruises, amongst others.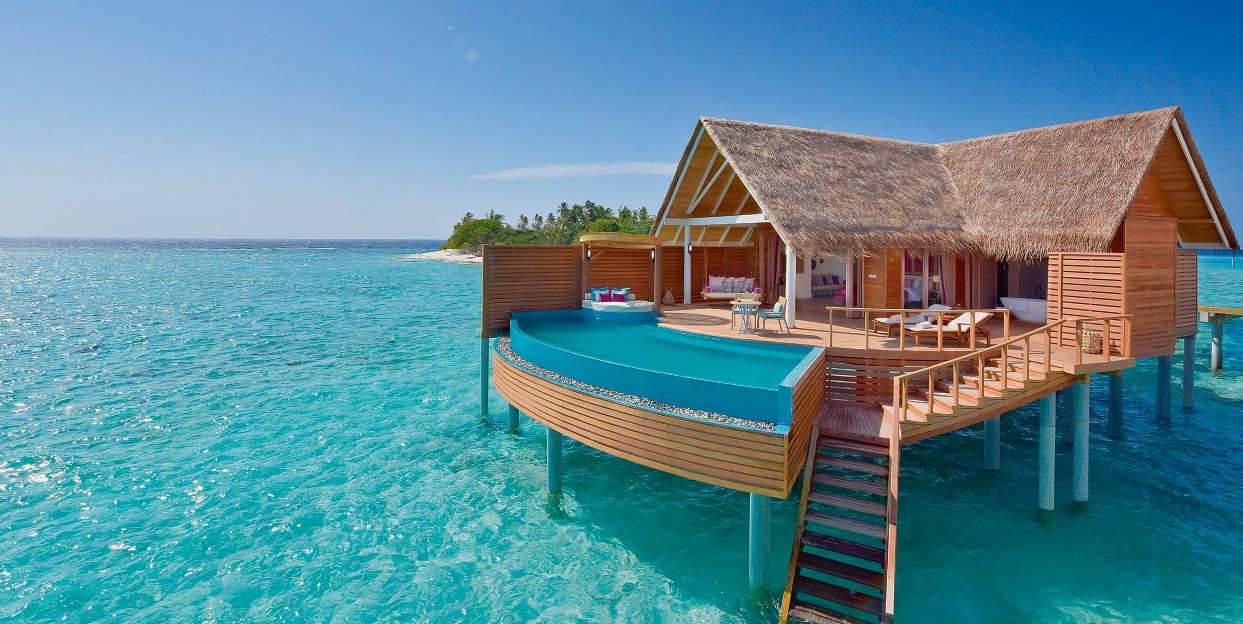 4. Fairmont Le Montreux Palace, Switzerland: Chocolates, wine, and dine.
Mountains, music, and elegant Swiss hospitality—all come together in beautiful harmony in Montreux, the 'Pearl of the Swiss Riviera'. An ornate marvel of Belle Epoque architecture, Fairmont Le Montreux Palace represents the best of its spirit and splendour. Surrounded by the soaring Alps and nestled along the shores of Lake Geneva, its expansive front lawn is flanked by an idyllic lakeside view. Piece this into your imagination with a band playing live jazz in a city that is well-known for hosting the famed Montreux Jazz Festival. Or perhaps you would prefer a more intimate space, such as the Salle des Fetes at the Palace, a grand ballroom encased in a fairy tale setting. Sparkling chandeliers, tantalising amuse-bouches, or the nest customised cuisine, this bespoke gem has it all.
5. Cape View Clifton, Cape Town, South Africa: Where mountain and ocean meet.
Cape View Clifton lives up to its name, offering enchanting views of the iconic Clifton and Camp's Bay coastline, sandy beaches, and mountains which overlook the Atlantic ocean. The airy brightness under the African sun will add a refreshing touch to your days when staying in one of the seven suites that the property boasts of. Enjoy your personal concierge, plan adventures into Cape Town, visit the nearby world class Cape Winelands, or simply stargaze.
6. Shakti 360o Leti,Kumaon, India: Experience true freedom.
Drawing mountain lovers and thrill- seeking couples from all over the globe, the four bedrooms of the Shakti 360o Leti lodge will cast their magic on you. Designed with sophisticated simplicity and style, there is gourmet cooking and beds adorned with Pashmina blankets for you to snuggle into. Combine your stay with a Shakti Kumaon Himalayas village walk to block your date with the Himalayas.
7. Castello Di Vicarello, Tuscany, Italy: Exchange vows in a lavender garden.
There could be no better setting for your wedding than the Tuscany region of Italy with olive groves, fine vineyards, the changing colours of the forest during autumn, and cool sea breeze in the evening. The Castello Di Vicarello is a 900-years-old castle- turned-boutique hotel splattered with rustic charm, lavender gardens, and pools—ideal for making your destination wedding a once in a lifetime event. Exchange your vows as the sun goes down behind the silhouette of the wild macchia mediterranea shrubland encircling the castle, and let your guests, seated on a long table in the castle's lavender garden, raise a toast to the newlyweds.
8. Sasaab Lodge, Kenya: For an invigorating African honeymoon.
In the heart of the African bush lies this extraordinary resort where you can experience fine Moroccan design and architecture, and heartwarming Swahili hospitality. It's a spot for a wild honeymoon as you soak up the sun from the resort's private plunge pool with breathtaking views of Mt. Kenya. Live the excitement of capturing the 'Samburu Special Five' on lm—the Beisa oryx, reticulated giraffe, Grevy's zebra, Gerenuk antelope, and Somali ostrich—to make your stay truly special.
9. Hotel Eden, Rome: Whispers of history, culture, and romance.
The good news is that Hotel Eden has reopened after months of restoration work. This iconic hotel, located in the heart of the old city of Rome, offers panoramic views of the city. Floor to ceiling windows of the Villa Medici Presidential Suite capture the city's ever- changing natural light, and present a vista of the city's bell towers, monuments, and domes. Enjoy true Italian timeless charm in its history, tradition, cuisine, and design during your Roman holiday.
10. Kulm Hotel, Moritz, Switzerland: Chic and champagne affairs.
The Swiss have a thing for beauty and ballroom weddings. No wonder then that with their penchant for grandeur, the Swiss brand of hospitality is second to none. If you dream of a wedding straight from a romance novel in perfect champagne climate, then the historic staff of Kulm Hotel, St Moritz, can give you the best care and advice to make it truly special. The hotel boasts of the largest ballroom in the region with a maximum capacity of up to 500 guests. With their tradition of hospitality and gourmet dining dating back to more than 180 years, the hotel is still modern at heart. Having hosted a host of grand weddings from varied cultures, the Kulm stands tall at 1,856 metres above sea level. Trust it to offer the best views of Lake St. Moritz. Its incomparable natural setting amid mountains and glaciers are sure to leave your guests speechless. What's more, the hotel works in close collaboration with Tehiya Narvel Events to execute opulent Indian weddings while offering an immersive experience to its guests.
11. JW Marriott Mussoorie Walnut Grove Resort & Spa, India: Wedding in the misty mountain air.
Surrounded by towering Himalayan peaks, Mussoorie is one of India's favourite summer retreats. Replete with both ample old-world romance and global-chic appeal, the dewy air of Mussoorie beckons one and all. Nestled in Mussoorie, or the 'Queen of Hill Stations' in North India, and only a couple of hours' drive from the capital city of New Delhi, JW Marriott Mussoorie Walnut Grove Resort & Spa is an ideal setting if you want old-world allure and contemporary elegance permeating your wedding amid this fascinating scenery. Subtle elegance whispers everywhere in the resort, from its marble bathrooms to private balconies. Boasting over 4,000 square feet of modern venue space, plush amenities, and a large, beautifully ornate Orchard ballroom with breathtaking views of the mountains, it can accommodate up to 350 guests. On a clear day or when the mists clear, your guests can watch you exchange vows. Let the green Doon valley and white snow-capped Himalayan peaks serve as the backdrop. The acclaimed Marriott culinary team at the resort can also plan unforgettable outings for your guests, including buffets in a fruit orchard or by a gurgling stream. After the wedding, it will be time for you to soak up all the romance as a married couple in the property's sparkling indoor pool or its four dynamic restaurants.
12. Ceylon Tea Trails, Bogawantalawa, Sri Lanka: Romance by a colonial verandah.
Sri Lanka's gold standard of luxury, Ceylon Tea Trails bungalows offer tantalising views of the tea estate, placid lakes, and waterfalls for a delightful honeymoon in southern Sri Lanka. Adding to their Colonial charm are a chef, butler, and house boys for a private house ambience and your own share of pampering. Follow the tea trail from one bungalow to the next, observe life on a working tea estate, visit a century-old factory preparing the nest Ceylon tea, or sunbathe with your love amidst lush green tea fields against the breathtaking backdrop of mountains while you enjoy a gourmet cuppa.
13. Atlantis, The Palm, Dubai: A man-made island aqua-venture.
Each Atlantis suite is designed to immerse guests into a world of unparalleled luxury, literally! Book the signature underwater suite for an unrivalled view of the Ambassador Lagoon in the Arabian Sea with its more than 65,000 marine inhabitants, including thousands of fish schools, stingray, and sharks. A closer look through the glass walls will reveal ruins of the mythical lost city of Atlantis underwater, reconstructed as a water park. Spending a night at this modern architectural marvel could be once in a lifetime opportunity for a couple. When venturing out, climb on to the roof of the Palm, a 22-storey-high hotel in the middle of Dubai, offering a breathtaking view of the city's skyline.
14. Victoria Jungfrau Grand Hotel, Interlaken, Switzerland: Wedding on top of Europe.
Dip into a world of snowy mountain peaks, World Heritage Sites, and historical trains. If Jungfraujoch on top of Europe offers incomparable views of the Alps, then Victoria Jungfrau Grand Hotel is its majestic driver's seat furnishing a breathtaking mountain view where paragliders appear as tiny specks. Picture tying the knot in front of the Alps and two lakes flanking your sides. Besides a lavish spread of banqueting at this luxurious property, your guests also have the option to choose between the Gault Millau 15 point- rated cuisine at the Restaurant La Terrasse or the Ristorante e Pizzeria Sapori. Treat your guests to an outstanding high-altitude sauna session, and a range of beauty treatments and invigorating massages at the hotel's 5,500 m2 wellness oasis, the Spa Nescens. In collaboration with Tehiya Narvel Events, this five-star hotel with 216 well-equipped rooms can give wings to your multi-cultural Indian wedding.
Assisted by Manveen Guliani.