1. Décor
Go full coral or have hints of it on the altar, the upholstery or fabric drapes as part of the decor. Dress up your food counters and cocktail tables in coral if it's a buffet. Or give your chairs bowties and table linen and place settings that punch of colour for a sit-down dinner.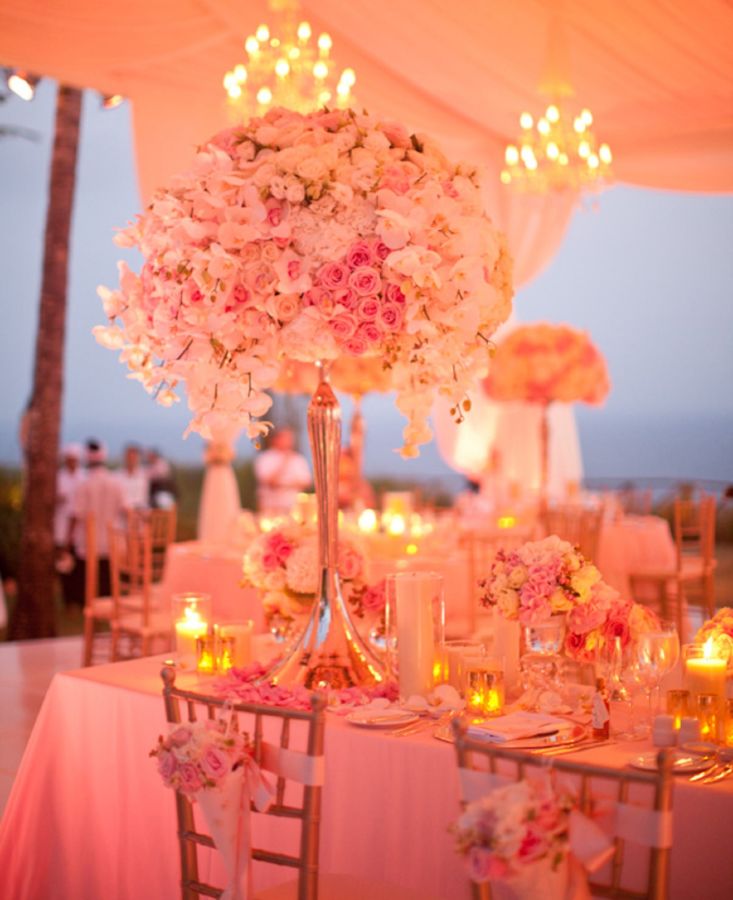 2. Floral Arrangements
You will be surprised, but flowers in coral colours are not that hard to find if you know what you're looking for. Flower curtains, floral chandeliers, ceremonial flowers, centrepieces or just as bouquets, coral could take over with the flower arrangements at your wedding. With the more commonly found coral peonies, garden roses, tulips, and even artificially coloured lilies, or high-end flowers like hypericum berries, coral ranunculus, dahlias and apple-blossom snapdragons, the options are endless!
3. Fashion
A bright coral lehenga with intricate hand embroidery is sure to be a memorable ensemble for the experimental bride. If a completely coral outfit is not your style but you still want that pop of colour, go for a subtler colour like nudes or beiges for your lehenga and balance it with a coral dupatta.
Are you a bride who's always dreamed of that big, red lehenga? Get your bridesmaids to show up in coral dresses or lehengas instead.
Tarun Tahiliani ICW 2019
Tarun Tahiliani ICW 2019
4. Groom
Want your groom to match your full coral ensemble? Get him to don a coral Sherwani. If his style is subtle like yours, give him a coral dupatta and turban, and maybe even a coral boutonniere for the cocktail night. Does your groom want to stick to conventional colours too? Get his groomsmen to match your bridesmaids in coral kurtas or turbans.
5. Accessories
Alternatively, try accessorising with heels in pastel corals, stacks of bright bangles or coral clutches.
In jewellery, look for statement pieces with coral coloured gemstones like Padparadscha Sapphire, Pink Tourmaline or the more popular, Morganite.
6 Makeup
Not going for a coral outfit? No problem. Incorporate this dreamy colour into your makeup for the big day. This colour suits almost all skin tones and even balances uneven undertones.
Go for coral eyes lined with gold to dazzle your way through the day.
For a natural-looking use of the colour, go for some coral high up on the apples of your cheeks for that fresh-faced blush.
Finish up your look with coral nails, solid corals for a more simplistic look, or accented with glitter and rhinestones.
7. Wedding Stationery
From your invites to Mehendi favours, menu cards to wedding signage, or even a quirky photo booth, there's a lot of ways to get that gram-worthy wedding with Living Coral.
8. Drinks
To round it off, whip up some classic cocktails with coral twists: watermelon or grapefruit margaritas, peach bellinis, orange screwdrivers or a Mediterranean pink lady in guava.
9. Food
If you're going all out with the theme, might as well do a coral food menu too. Add some salmon nigiri, grapefruit curds, fresh lobster, or charcuterie platters with freshly-sliced prosciutto. For that beautiful coral coloured dessert table, go for peach flavoured ice-creams, coral macarons or guava Panna cottas. And the star attraction, a wedding cake in shades of coral to top off the perfect coral themed wedding.