I have visited Rome twice, once with my family and more recently when I was invited to the headquarters of the Food and Agriculture Organization in the city. I was there to speak at a panel discussion about Indian ingredients, sustainable cooking and Parsi cuisine that I specialize in. It was a 4-day long trip out of which I was working for two days and the rest were to explore the city.
Be it any trip or any cities in the world, I already have a to-do list of destinations in that place that I want to explore. As a chef and a foodie, you have to have this kind of list, phone notes or even saved Instagram posts of such places.
Relishing Rome
For me, any city that I visit I need to check out the local markets. So, I tried to find the closest market to the FAO building since I spent most of my time there. There is a really cute enclosed market called Mercato Testaccio, which has food stalls, some fresh produce stalls…specialty cheese stations with fresh mozzarella, different beers, wines. It also had a pasta stall where a person was actually making fresh pasta, tossing it up and then serving it in a sauce of your choice. There was a market square in the middle where people were sitting, eating and drinking wine.
I bought various cheese, olive oil there to bring back to India, saw many new ingredients and spoke to the farmers and store owners there.
Most of these food markets shut quite early, after lunchtime. So, you have to make sure that you check the days and timings of the food markets that you plan to visit because most of them are shut on specific days and have fixed timings too. So, this market was definitely on my list.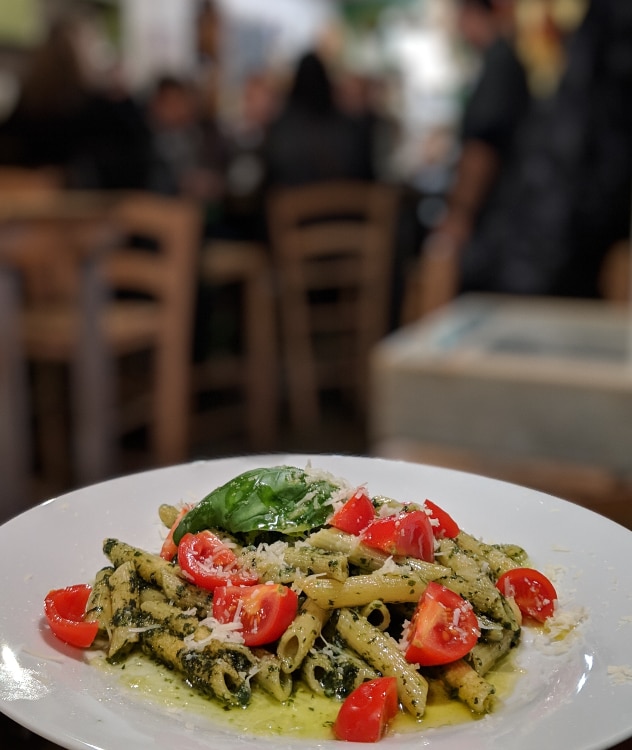 It was also important for me to eat Roman food while in Rome especially because their pasta and pizza are different from other parts of Italy.
So, in the two days that I explored the city, I must have eaten pasta three times a day and pizza whenever I could snack on with a copious amount of Chianti, which is just the best red wine in the whole world (and so cheap!). If you visit Italy, you must definitely drink Chianti because it is so good.
But what I really enjoyed was this particular kind of pasta, which was called a Macharoni, like macaroni with an 'H'. It's longer, tube-like pasta and they toss it in just tomato sauce and paprika or chilli flakes. It's just absolutely delicious. I also tried the obvious pesto pasta that I didn't want to miss.
Then there was a place called a Trapizzino that had triangular-shaped bread stuffed with fillings of your choice, almost like a cone-pizza. I had mine filled with meatballs and cheese.
Mostly, people just pick it up and eat while walking. This was a recommendation by a friend and it was certainly offbeat like I had to really find the place but it was worth it.
For pizzas, I recommend Pizzeria Da Remo; it is popular among the locals and is completely non-touristy. Then there is Dar Poeta where I had a carbonara pizza for the first time. I remember this place very clearly; there was a waiting line and it's usually very crowded. The tables are close to each other, so much so that we were literally bumping into each other while eating and you could see the servers carrying salvers loaded with pizzas.
So, you get one pizza for each person and usually a carafe of wine for each table. It's super noisy and very popular but the pizza is very yummy!
There are also lots of places that are very well known for their dessert. And, of course, if you are in Rome, you have to have Tiramisu. There was one particular place, Pompi Tiramisu, where it is served in a box so you can walk around while eating Tiramisu. It is very touristy and is situated in the heart of the city near the Spanish steps so you can just carry it around while exploring the Trevi Fountain.
I also recommend visiting this really old gelatiere, almost like a hundred years old, which also allows pets and their gelatos, are really good.
I also visited this super-chill, old school Roman pub called Bar San Calisto. So, you go to a counter, pay the money and tell them what you want (usually the drinks cost about 2-5 Euros). The drinks are super delicious and everyone takes their drink outside because the bar is super tiny.
Rome, you beauty!
Public transports in Rome, as I have heard from friends too, are mostly never on time. So, I did not use any cabs during my stay but I did take the tram and I walked extensively.
I definitely recommend walking around the Colosseum area and the Trevi Fountain because there are so many beautiful old monuments around. You can take pictures and act like a complete tourist.
At the fountain, where people have to throw a coin with your right hand over your left shoulder and you make a wish to return to Rome. I remember, the last time I visited, I had tossed a coin and I did end up visiting Rome again! So, I do believe that it is true. It worked for me one time and I am hoping it works for me again.
The Colosseum is of course very grand and extremely beautiful even though I did not visit inside because it was too late in the evening.
You can also explore an area called Trastevere that is really beautiful, especially at night. To describe it, I would say it's almost like an open, cobblestoned market with many streetside cafes, party places and bars. The vibe is very chilled out with a lot of younger crowd – people just hanging out drinking Aperol.
I think I managed to visit most of the locations on my Roman bucket list…most of them because it rained on one of the days and we had to take shelter in this tiny boutique restaurant, Cantina Belsiana.
It was a random place where we ended up having wine and bruschetta but it was so cute and tiny. So, I just feel like if you have a list you obviously must do those things but also do get lost a little bit so that you explore something new that is not on your to-do. And, this was one of those places.
My favourite memory from the trip would be walking around Trastevere that had everything like the pizza place Dar Poeta and then the bar with a super-delicious drink.
I would say Rome is perfect for a couple who love the city life but also appreciate the quiet spots. And of course, if you are in Italy, you have to be a big foodie because everything is very delicious.