Ours is a global love story.
Karan's family is from Nairobi. He was living in the UK and I was living in Mumbai when we met at a wedding in Bali, Indonesia in 2017. We got to know each other after several trips between London and Mumbai.
The couple signing to Mr & Mrs. Rhea and Karan pose for a photograph
Miniature truck as a part of the décor
Rhea's henna with a stethoscope to denote Karan's profession
Karan had planned a day full of surprises.
He took me boating, followed by ice skating and then to a lovely dinner at one of the best Chinese restaurants in London. He asked me to come up to his room, saying he had forgotten something he needed to give me. When we got there, it was beautifully decorated with flowers and candles, and Karan asked me to marry him.
Floral decoration for their haldi ceremony
Labelled straws
Rhea's bouquet for her church wedding
I had a dream team for my wedding.
My makeup artist Biance Louzado made me feel like a princess and the Camera Crew captured all our special moments beautifully. We got married at the Gurudwara in Khar, Mumbai and the other functions were held at the Taj Mahal Palace, Mumbai. Every wish of mine was fulfilled and each thought was put into action.
Flavoured jello shots
Gotapati décor elements for the haldi ceremony
Rhea entering the church with her father for her church wedding
The most beautiful moment for me was when I walked into the gurudwara.
It was decorated with flowers in pastel peach, pink, and cream. And Karan was sitting there, waiting for me. He smiled as I approached him, and that immediately made me feel calm.
The Gurudwara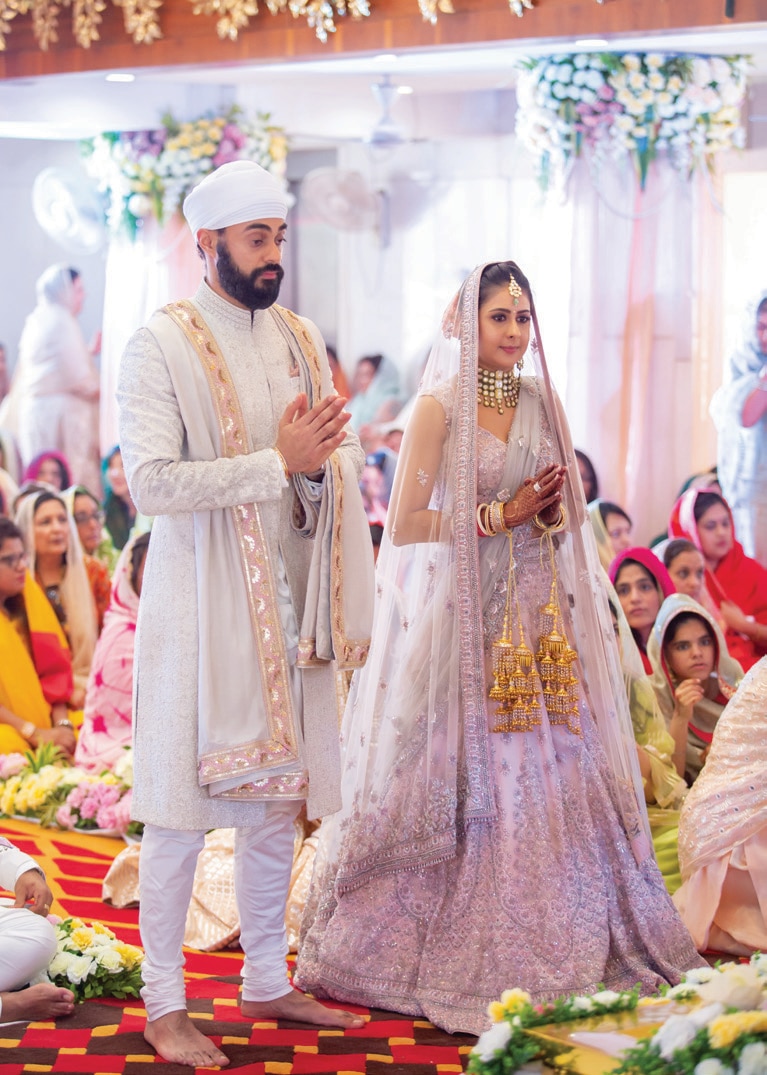 The couple at the Gurudwara
The table set-up for the couples signing
I love lehengas.
I wore one for all my functions; the designs and cuts of the blouses were different, of course.
Rhea and Karan's pre-wedding shoot
Rhea getting ready
The couple pose with the haldi decoration as their backdrop
My advice:
Tell your parents honestly about what you like and what you don't. No matter how much you plan, if something goes wrong on that day, you are still going to enjoy every minute. If you don't agree on something, make a deal on who gets the last say on which part of the decision making. It's always a fun and easy way to get through disagreements.
The couple cuts the tower of cupcakes
Karan dancing during his baraat
THE DETAILS
The Bride and Groom's outfit: Manish Malhotra, Jade by Monica & Karishma, and Disha Patil.
The Bride's jewellery: Gehna Jewels.
The Photographer: Camera Crew.
Wedding Planner: The Wedding Company.
Wedding Designers and Flowers: Vivah.
Catering: Taj Mahal Palace and Foodbiz.
Entertainment: Aman Nagpal.
Karan's family gets him ready to get married
The couple pose for a romantic picture