'Healthy dessert'—which is nothing but an oxymoron—happens to be the rationale behind Juhi Pahwa's artisanal bakery, The Better Binge (@thebetterbinge), situated in the bustling city of Mumbai.
As people from all walks of life grow increasingly conscious of their dietary habits, this Mumbai-based pastry chef caters to their indulgences by offering guilt-free, healthy alternatives that don't leave you in regret. Her delicious, droolworthy creations are often custom-made keeping the celebrities dietary restrictions in mind, whether it be a gluten-free baked goodie, a keto cookie, or a sugar-free tiered cake! 
"I'm a *major* foodie myself, and the inspiration behind the brand was to be able to enjoy desserts guilt-free. I truly believe that you eat with your eyes first, followed by your taste buds. The Better Binge is all about establishing a great customer experience, with the motive to make this world a refined sugar and flour-free place, one cake at a time," she explains. 
Bollywood's diva, Katrina Kaif—a fitness enthusiast whose washboard abs would put anyone to shame—seems to have a penchant for desserts as well, with The Better Binge's healthy pancakes topping her list. "There's no doubt that Katrina loves her pancakes more than any other dessert. She is also extremely strict and specific about her cheat meals, so I make sure to make them healthy yet binge-worthy," says Juhi. 
Juhi's delectable pancake recipe contains ingredients including buckwheat flour, keeping Kat's gluten sensitivity in mind, whey protein and eggs, to maintain her protein intake, a zero sugar sweetener, the best Belgian cocoa powder, and a dash of cinnamon. The healthy pancakes are topped with vegan Nutella from the Better Binge, and sugar-free marshmallows and peanut butter from her kitchen.
Here's the recipe to make Katrina's favourite Sunday cheat meat right at home:
Ingredients:
1 cup Buckwheat Flour
1/3 cup Dark Cacao Powder
1 scoop Whey Protein Isolate 
3 tbsp Monk Fruit Sweetener
1 tsp Baking Powder 
1/2 tsp Baking Soda 
1 tsp Cinnamon Powder 
1 cup Milk
1 large Egg
Vanilla Extract
A pinch of salt
Directions:
1) Sieve all the dry ingredients through a wired mesh.
2) Whisk the egg and milk together with a generous helping of vanilla extract.
3) Mix the dry and wet ingredients to obtain a smooth pancake batter.
4) Use a 1/4th cup measurement to create 12 hot chocolate pancakes.
5) Serve with The Better Binge's healthy Nutella, peanut butter and marshmallows!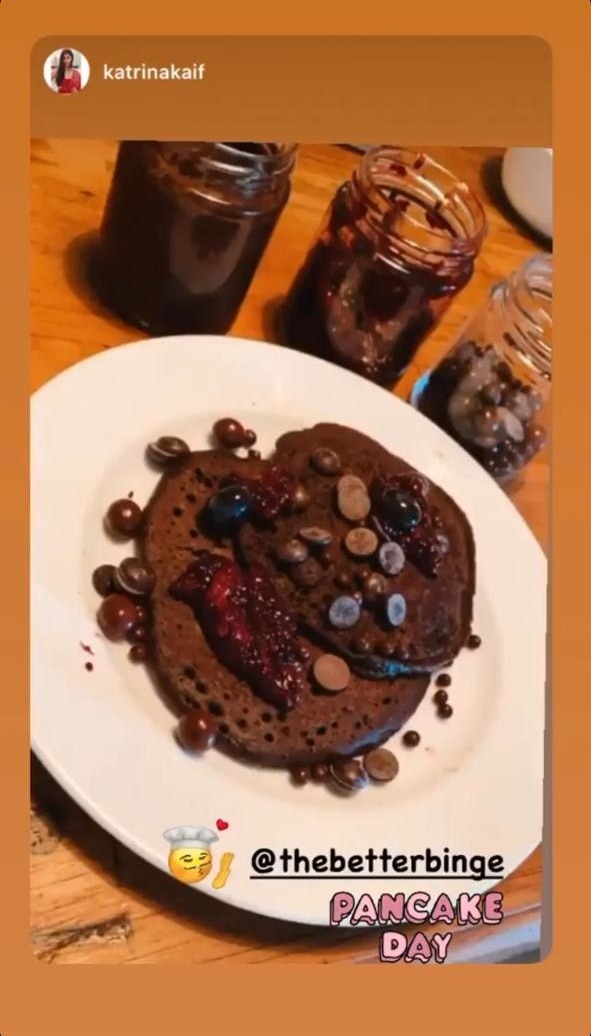 Dig in!