Weddings may have become low-key, but there's no scaling down a love for mithai when it comes to the great Indian wedding. The best part is, modern merrymaking has upscaled the flavours and packaging of the much-appreciated sweetmeats. Highly customised, wrapped in visually sumptuous finery, and celebrating an Indo-western blend, one is spoilt for choice with whiskey ladoos, Old Monk halwa, modak-shaped truffles, and more. Here's a litany of luxe mithai services, which offer a delightful mix of the best of ingredients sourced from different regions.
SAUGAAT BY BIKANERVALA
Hailing from the iconic house of Bikanervala, Saugaat in Hindi means 'the sweetest gift'. Founded in 2019, by Renuka and Sanjay of the Bikanervala family, the brand is diverse in its creations. The original sweetmeats shop began seven decades ago, when a family ventured out of their hometown, Bikaner, to the emerging city of Delhi, bringing with them the wisdom and taste of centuries in the form of rich Indian recipes. The next step was the creation of Saugaat.
"As a by-order-only boutique, we take the art of gifting personally. For bridal hampers, elements like the traditional potli bags were introduced along with customising the box with the names of the bride and groom. For festive hampers, we have a wide variety of fabrics and box designs that can be personalised," says Renuka. Saugaat's Jamun ka laddoo comes hidden inside a ball of macerated prunes, finished with freeze-dried Jamun dust. It is chewy, sticky, moist, and messy; all that makes eating it an experience to remember. As for Renuka's personal favourite, the Kesar pista boondi laddoos makes for the ideal gift to give for any occasion.
SHAKKR INDIA
Pooja Gogia, the Director of Shakkr India, ventured into the realm of beautifully packaged, fusion mithais by providence. "At a wedding function a few years ago, we decided to serve a fusion dessert called daaru ka ladoo featuring the traditional motichoor ladoo and vodka-filled chocolate balls. This was such a hit, we decided to experiment even more," she says. The secret behind Shakkr's delectable treats is the finest raw materials, from the ghee to the dry fruit. They offer customisation in the range of mithais and packaging too. Some of Shakkr's popular offerings include khajur dry fruit rolls, almond tacos, and boondi rasmalai cake topped with pistachios.
NIHIRA
Founders and mother-daughter duo Arshya and Subha Aggarwal reintroduced mithais at a time when traditional desserts were seen as 'uncool'. "We realised that we could create something unique to bridge the generational gap. You can take the Indian out of mithai, but not the mithai out of the Indian," says Arshya. Nihira, which means 'newfound treasure', offers close to 80 varieties of sweet and savoury treats, and includes alcohol in the mithais. Their offerings include gin and cranberry ladoos, whiskey ladoos, red wine ladoos, sambuca and grape ladoos, and Jägerbomb ladoos besides Old Monk halwa.
Meanwhile, the non-alcoholic mithais comprise cheesecake barfi, Pina Colada ladoos, Tiramisu barfi, pista Chandan pedas, and apple pie gujiya, among others. The brand also offers a range of customisations, from packaging to curating mithai to the event's theme. "For a floral-themed wedding function, we created bloom-flavoured mithai to aesthetically match the theme. And for a tropical-themed function, we curated Mojito ladoos, PinaColada ladoos, and watermelon lemonade ladoos," Arshya says.
ARQ MITHAI
Chefs Neha Lakhani's and Ashay Dhopatkar's expertise lies in French food. However, a few years ago, the duo began to explore their own roots, and their experimentation led to the launch of Arq. "We wanted to create a cool mix of Indian and French food. We researched and realised that this segment has so much potential, and were the first chefs in the country to come up with a concept like this," Neha states. Arq's sweet offerings include Kesar crumble, coffee mithais, Gulabroon (a gulab jamun macaroon), along with savoury treats. New recipes are introduced at every Indian festival, along with customising and innovating fresh treats for weddings.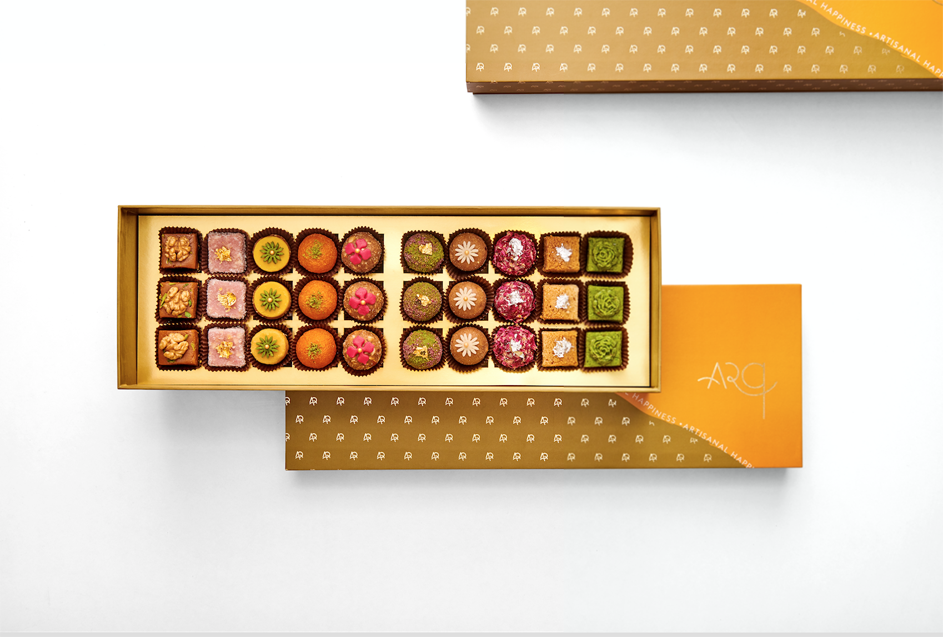 TASTE RETREAT BY TASHEEN R
Entrepreneur and foodie Tasheen Rahimtoola always wanted to start her own food business. "I've always believed that thoughtfully prepared food is a source of joy, an indulgence, that even a global pandemic cannot vitiate. Being a globetrotting food connoisseur, I missed the simple joys of travelling to cafés to satiate my creative and culinary cravings," Tasheen shares. Within the first few months of the lockdown, she launched Taste Retreat. "We curate and design dessert and pudding hampers for the bride, groom, bridesmaids, and invitations," she explains. Think traditional sweets with a modern twist: Champagne ladoos, motichoor thandai tarts, and chocolate-stuffed pistachio baklava, among more. "We create flavours from multiple pâtissieres, so there is a wide variety to choose from," Tasheen says.
BERFILA
Founder Neha Niwas launched Berfila in 2017 with seed investment from her family and the foresight that online retailing will be the next big thing in gifting. And so, Berfila presents the largest selection of sweets in India at the click of a button. "The modern customer wanted new flavours, premium presentation, and a lot more transparency in ingredients. That meant a lot of innovation on our part," says Neha. Berfila delivers pan-India, and even customises single boxes of sweets for its clients while catering to bulk orders. "We customise based on themes, colour palettes, and flavour choices," she adds. The brand offers around 300 sweets online, but with customisations, its catalogue easily crosses over 1,000 varieties, from popcorn caramel barfi to pineapple kalakand, sugar-free milk cake and rasgullas, kewra-flavoured rasgullas, and chocolate-filled gulab jamun.