Place settings are a practical—and essential—component of your wedding ceremony. But other than serving their main purpose (the celebratory meal, of course), place settings are an important part of your decor, showcasing your style and making guests feel welcome as they take their seats.
Whether you're serving your wedding meal in a buffet style (as seen in most Indian weddings) or sit-down service, we're sharing our favourite wedding place setting ideas for truly unique and beautiful ways to adorn your tables.
Tropical Tales
Palm tree leaves are indispensable in South Indian Weddings. While you may be using them to serve a traditional wedding thali, you can also incorporate them in your table decor by cleverly using them as a runner. Double them up as napkin rings by wrapping them in jute string around your napkins. Use cane placemats and other earthy accents to elevate the look.
Tropical wedding reception table decor. Image source: Pinterest
Sun & Sand
Let your love for the sea manifest in your day-wedding table decor. Take inspiration from the cool elements of the beach and incorporate them for a beautiful and cool vibe. Use seashells in the form of embossed plates, and decorate the table with sand and more shells. Add an earthy vibe to the setting with jute woven table mats.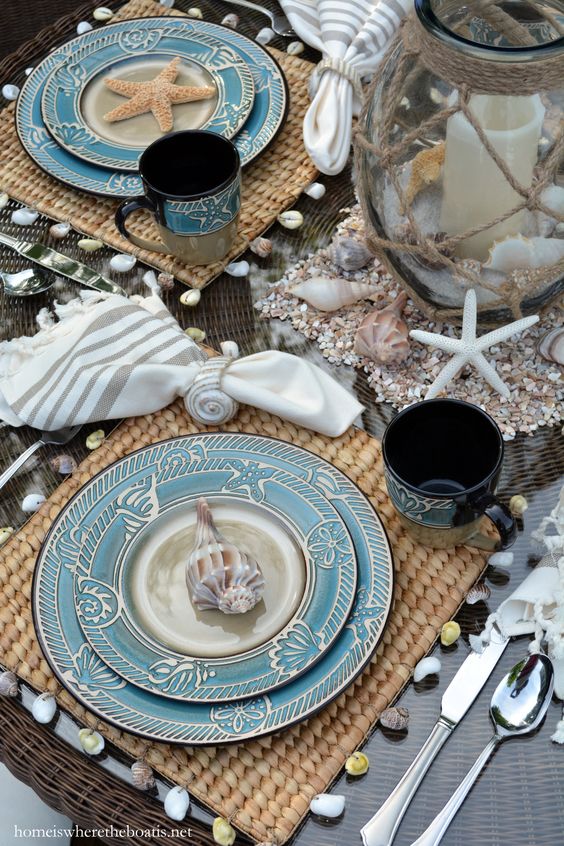 Sea Inspired Table Decor. Image Source: Pinterest
Fruit Splash
Ditch the common flower settings for an array of vibrant fruits for your wedding decor. Let the fruits add a splash of colour to your neutral furniture. You can use plain white crockery in contrast with a native fruit or any other of your choice, and some lush green leaves to compliment the neutral hues.
Vibrant Fruit Table Decor. Image Source: Pinterest
Blossom Bounty
Take cues from nature and incorporate them in an extraordinary way in the form of wooden logs, decorated with flowers as the table decor. Add a sentiment to it with your initials or the wedding date carved into them. You can also use table mats carved out of wood with customised initials.
Customised Table Decor. Image Source: Pinterest
Dark Fantasy
Revel into the richness of dark colours for the decor of your night wedding. Pick any colour and use it in different shades, and accentuate it with gold details. Keep the decor minimal with simple crockery and nominal details of nature with dark leaves. Keep it classy with crystal wine glasses.
Dark Table Setting. Image Source: Pinterest
Go beyond the generic beautiful table decor and focus on adding a touch of fun to your wedding. Opt for waffle cones instead of flower vases and compliment the soft brown with the vibrancy of bright flowers for a romantic yet fun arrangement. You could also use confetti and beads to add a touch of whimsy to your table.
Fun and Fancy Table Decor. Image Source: Pinterest
A Bohemian Soiree
Picnics are often a playful and romantic setup. Dive into their bohemian vibe for your day wedding decor with low-lying tables and cushions as the seating. Infuse a bright colour in the form of cushion covers and flowers in contrast to white linen. Add hints of gold to complement the entire set up with a touch of class.
Picnic Style Table Setting. Image Source - Pinterest
The invigorating combination of white, blue and green expresses cool and class. Opt for dark blue set against stark white for an enchanting tale setting. Borrow lush leaves from nature's bounty and use it in the decor for a harmonious look. Compliment the settings of blue, white and green with the classic silver cutlery and posh glasses.
Vibrant Nature Table Decor. Image Source - Pinterest
Royal Rendezvous
Plunge into the royalty of blue pottery for your wedding decor instead of vases and flowers. Embrace the regal feel of earns and place them on the tables. Include vibrant fruits and leaves for a contrasting pop. Make a statement with golden cutlery and gold-rimmed glasses.
Regal Table Decor. Image Source: Pinterest
A Glass-ic Fantasy
Keeping the table setting of your wedding different and minimal, opt for wine glasses as an element of decor and not just to carouse. A wine glass can be consolidated in the form of a candle stand or perhaps a flower vase, thereby saving the cost of decor while also adding a touch of sophistication.
Fancy DIY Table Decor. Image Source: Pinterest
Assisted by - Sanskriti Sharma