It was the late seventies when two young college friends set off on a journey across the length and breadth of India in an effort to understand her art and soul. They were Rajiv Arora and Rajesh Ajmera, co-founders of Amrapali Jewels. The young men encountered unique jewellery and artifacts getting bartered at various markets and what began as a tentative exploration, led to a lifelong passion for curating arts. In 2001, in association with Shisha Foundation, they conducted various international exhibitions called 'Chandrika—Silver Ornaments of India' in different parts of England. The overwhelming response to the exhibitions gave birth to the idea of a curated space, which went on to become the Amrapali Museum. "We go by the mantra of learning from the society, earning from the society and then returning to the society, so this is a humble contribution from us," says Rajiv Arora. The Amrapali Museum opened doors this year as a gift from Amrapali Jewels to the glorious city of Jaipur. Spread over two floors with specialised areas of focus, the museum stands as a testament to Indian art, design, and craftsmanship. While the ground displays items of beauty and adornment, silver and gold jewellery for every part of the body, from every region of India, the basement houses numerous inspirations for design that have been available to craftsmen over time.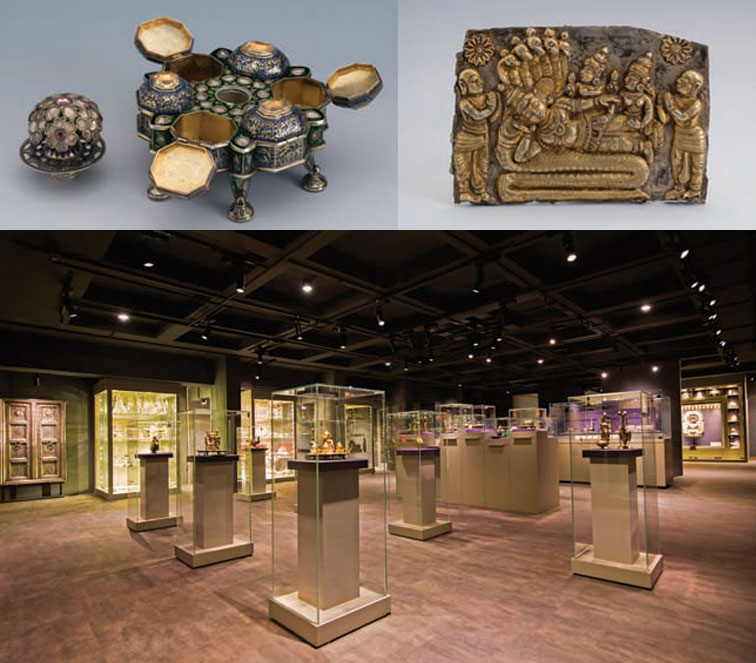 From top left: Masala daan; Sculpture; Basement section of the museum.
So how has the diaspora of jewellery design evolved in India? "In the '80s, the designs were more traditional but over the years one can see a lot of western influences and modern designs. A lot of cross-cultural mix in jewellery is being developed like Victorian jewellery mixed with Jadau Jewellery!" says Arora. He stresses on the importance of jewellery as a part of a bride's trousseau as there has been a shift from wearing heirloom pieces to theme-based jewellery. We ask him if he has a favourite piece from the museum's collection and he is quick with his reply. "It would be the Gold Choti from 19th century also known as the Jadai Nagam, collected from Tamil Nadu, fashioned from sheet gold, and worked in repousse and filled with lac. I sized each individual unit to form a long tapering ornament strung together on a cord and we end up going back to this piece!" He remembers a time when a wild goose chase for a cat's eye stone in a village called Katha Baji in Orissa, led them to a simple agate stone, which is available in abundance on the footpaths of Mumbai! This incredible Museum Collection has been made available for research to scholars, designers, and students. This museum is a sigh to behold for brides looking for inspiration and Arora signs off with a message, "The brides of today are very intelligent and they carry themselves with utmost confidence. Just embrace yourself and your culture and you will look great on your D-day!"
ALL IMAGES: COURTESY.