Canals lined with colourful gable-roofed buildings, narrow streets flanked by bicycles and hidden treasures like thrift stores and vintage boutiques and rich history of art and culture, we have every reason to be in awe. Make Amsterdam the destination for your next getaway with bae and we promise you won't regret it!
Arriving in Amsterdam
Amsterdam Airport Schiphol (AMS) is a major intercontinental flight hub and the home of KLM, the national flag-carrying airline of the Netherlands.
Amsterdam Central, the central train station of the city connects Amsterdam to most major European cities via train. The station is also connected to Schipol Airport.
The city is also connected to other destinations in neighbouring countries through the bus network, which is a convenient and economical way used to travel within the continent by many.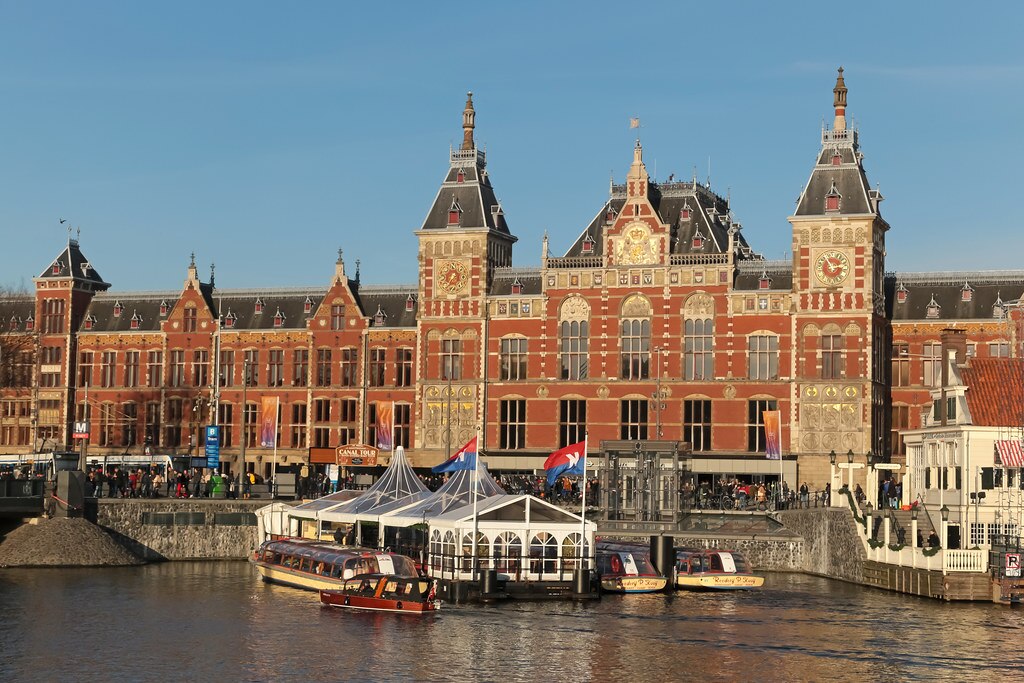 Amsterdam Centraal
Getting Around
Considering the narrow streets and lack of free parking space, the most popular way to travel within the city is by bicycle. Cyclists take to the streets in numbers every day, visible spectacularly during rush hour and the kilometres of bike paths across the city make it a safe and efficient mode of transport. There are many bike rental agencies for visitors with daily and monthly rental plans and the official one is called OV-Fiets.
Amsterdam also has a very extensive tram, metro and train network and residents use a reloadable card called the OV Chipkaart to access all public transport.
Travellers can also use an "Amsterdam Travel Ticket" which includes train fare to and from the Airport and 2 days of unlimited public transport or the "I Am Amsterdam" city card which can be bought for 24, 48 or 72 hours and include unlimited use of public transport as well as free access to various attractions in the city.
Amsterdam: Bicycle Paradise
Staying in Amsterdam
Amongst numerous exemplary hotels in the city is The Conservatorium. Built over 100 years ago with a mix of neo-Gothic and Art Nouveau principles, The Conservatorium is a destination hotel committed to preserving and showcasing Dutch art and culture. The hotel hosts regular musical performances and contemporary art shows, providing guests with not just the experience of living in the heart of Amsterdam at a landmark equated with the Rijksmuseum but also a glance at the opulent history of Dutch commerce, culture, and society. The Conservatorium also houses some of the finest dining experiences, with its multi-cuisine restaurants, bars and lounges, like the Taiko Restaurant, The Brassiere and the Tunes Bar.
Conservatorium Hotel
The Conservatorium: Flower Suite
The Conservatorium Lounge
Things To Do
Discover Amsterdam On Boat
The Golden Age canal belts of Amsterdam, a feat of engineering now recognised as a UNESCO World Heritage site, are spectacular to say the least and easily accessible via boat. Many companies offer boat tours of the city through these beautiful canals. During the spring and summer, you can rent out personal 2-person pedal boats, making it the perfect way to discover the city for adventurous couples.
Explore Amsterdam by Bike
Visit picturesque inner-city neighbourhoods, like de Jordaan or de Pijp to get postcard moments for the gram or head over to more secluded spots, like Amsterdamse Bos, a large forest in the south of the city, or Ijburg, an extremely modern district that is surrounded by water.
De Jordaan, Amsterdam
Catch a Movie, Concert or Opera
Amsterdam has some gorgeous movie theatres, our favourite is Pathe Tuschinski, a stunning art deco movie theatre dating back to 1921. For a little extra, splurge for the Grote Zaal where you can enjoy your private balcony. For a dose of culture, consider stopping by the Concertgebouw for a free lunchtime classical concert or at one of the many churches, including the famous Westerkerk which holds free organ concerts on Friday afternoons.
Pathe Tuschinski
Take a Trip to the Countryside
Take a train trip to Keukenhof, The Garden of Europe to marvel at vast tulip fields, a magical experience which is sure to stay with you forever. Otherwise, visit the picturesque fishing villages of Volendam and Marken and experience the Dutch countryside. See the Zaanse Schans and its many unique windmills, visit a traditional wooden clog maker and get a tour of a cheese factory in these beautiful villages.
The Zaanse Schans
Tipsy Date Night
If you're the fun, partying couple, Amsterdam has a lot for you. Enjoy a wine tasting evening at Vyne, Amsterdam's dedicated wine bar. Beer lovers have infinite options here, one of them being the Heineken Tour. Craft beer connoisseurs can visit boutique breweries to sample the local brews like the bitterballen. Continue the party at Amsterdam's world-famous nightclubs or spice things up with a little tour of sin city.
Amsterdam Nightlife
Rejuvenate at Lavish Spas
Tired from your wild night out? Revive and invigorate at the many luxurious spas in the city, like the Akasha Spa. Akasha is a transformational sanctuary to align your mind, body and soul, with its soothing saunas and steam rooms, tailored fitness programs at the spacious gym and tranquil studio spaces to practise disciplines like yoga, tai-chi, meditation or pilates.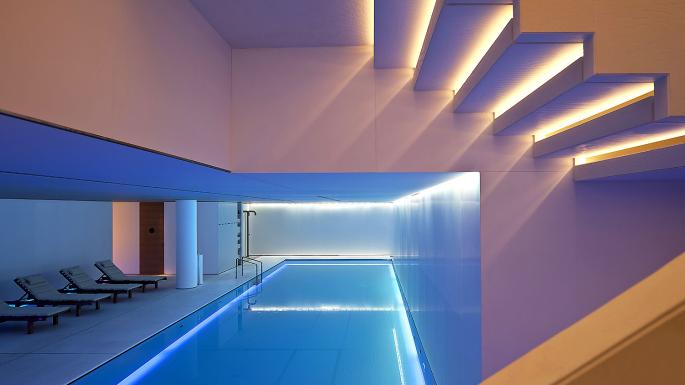 The Akasha Pool
The Akasha Studio