You've seen it in the movies, read about them in countless articles, and now it's time to live it—partying hard and drinking the night away in the company of your best friends at a stunning location. Welcome to the quintessential bachelor's party. But don't worry, we aren't going to harp about the casinos of Las Vegas, the 'party' in Amsterdam or Bangkok. Here are a bunch of off-the-beaten-path places you can consider for the  bachelor party you are attending or planning. 
Dubrovnik
This one is for all you Game of Thrones fans. Not only can you explore the city and its roads with an exciting King's Landing walking tour (there's a separate boat tour as well), but get the much-needed adrenaline rush with a bike beer tour (time to hop on board), where you zoom through the city with a mug of beer in hand. If you want to bring out the competitive spirit among your gang, you could also go for a segway race. Parties here don't end until the sun rises, so head to Old Town and go bar hopping—from cocktail bars and wine cellars, to craft beer breweries—the place has it all. 
Ibiza
This place is one of the main reasons why Spain is among the top party destinations around the world. Remember the Vengaboys song 'We're going to Ibiza'? It's now time for you to go, too. Hop onto the fun disco bus around town as you hit the most hip and happening nightclubs. And if you're a fan of all things EDM, get ready to watch time fly as you burn the dance floor in every single club around. If you plan your trip well, there's a very good chance that you'll get to boogie to a popular DJs concert. With most of the clubs in and around the same area, it's best you book a place to stay that's within their proximity. What follows is days where you and your boys groove and move to the beat. Party away!
Prague
If you and the boys are looking for a triple treat of fun, relaxation and adventure, then Prague is the place to be. The city is a hotspot for white water rafting that'll see your gang paddle the raft through the waters. You can then go unwinde at a café on the city streets (the popular ones are Restaurant Mlýnec, Portfolio, "K" The Two Brothers) or spend time admiring the Charles Bridge, Old Town Square, and Prague Castle. Come the night and the city has you sorted. If you don't know where to go and just want to welcome things as they come, then the city's famous pub crawls will set you on the right path. 
Macau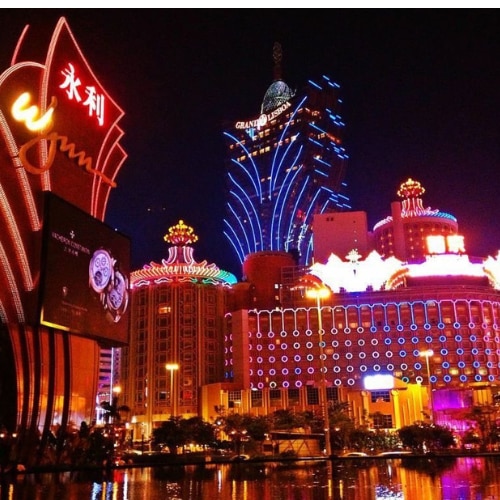 Why go to Las Vegas when you have the Vegas of the East, just a few hours away. And trust us, the place lives up to the hype. If you've got a gambler hidden inside you, the casinos will welcome you to try your luck out all night long. Get ready to be enthralled by the crowds, as you enjoy the delectable street food and booze with your boys. Don't be surprised if you find yourself extend your stay here because that's how much fun you are going to have! 
Miami
What better way to celebrate your last leg of singlehood than a trip to this beachside holiday destination with your buddies. Soak in the sun and sip on drinks during the day, and party till the sun goes down. It's time well spent at famous clubs such as the Nikki Beach club, LIV, and club Space as well as doing all things touristy at Bayside Marketplace, Jungle Island, Vizcaya Museum & Gardens. With an ample number of resorts in town, chances of you having a private villa with a pool party are sky high. 
Ziro Valley
Thanks to the film Bhediya, this valley in Arunachal Pradesh has been put on the map of party places around the world. Not only is it picturesque and heavenly with its blue skies and mountains, but it's also home to one of the most famous music festivals in the country—the Ziro Music Fesitval (time your bachelor trip in September for this). If you're looking for a place in the lap of nature, far away from the city life, to enjoy local culture, music and food (not to forget the rice beer), then it's time to camp with your band of boys in Ziro.