The perfect tablescape says a lot. Not just about your aesthetic and who you are as a host, but also the thought that goes into making your guests feel special. Brides Today got four décor brands to set up the perfect table, and also offer handy tips and tricks. 
Noor and Neimat Sethi, Founder and Creative Director, Co-Founder, respectively of Artisan Lab.
"Artisan Lab is a concept store and café that is guided by a love of craftsmanship and reverence for makers. We bring together beautifully designed and carefully chosen objects and curiosities for everyday living, as well as special indulgences, marrying craft and culture with a contemporary aesthetic. Here, you will notice a nature-inspired dinner setting, where our Africana dinnerware takes the spotlight. We have layered the Africana dinner plate and side plate and topped it with our Earth Linen napkin delicately held together with a fern leaf and decorated with a baby breath flower. Our grey and gold flatware compliments this setting.
For serveware, we've paired our mango wood lazy Susan bowls and added a hint of colour with olive-green pedestal bowls.The idea behind this set up was to create a fun summer aesthetic without having to look too far. Fresh fruits make a great replacement for expensive flowers and add that perfect pop of colour. Ferns found in your garden or at your local florist create beautiful napkin rings. Feel free to experiment as there are no rules to having fun with your table settings."
Nihal Kalra, Co-Founder of The Decor Kart
"The Decor Kart offers a wide range of home décor options in timeless styles and high-quality craftsmanship. The brand stands for home decorating and design with a focus on comfort, warmth, and an inviting atmosphere. For the Brides Today table, we have used ceramic tableware in a unique combination of greyish-blue tones to create the perfect summer vibe. The oomph is added with help from colourful glassware, napkin rings, and accent details—all from the blue and white range that has become synonymous with the brand. There is something about blue and white that always looks so fresh and instantly adds a touch of elegance and sophistication. Expertly decorated with elegant floral blooms and curling leafy scrolls unfolding over the surface, blue and white dinnerware certainly represents a taste for classic style. The tableware looks best when several pieces are grouped together."
Aditya Agrawal, Kirti Goel, Gaurav Garg, Co-Founder and CEO, Co-Founder and Head Designer, Community Engagement Lead of P-TAL
"P-TAL aims to be a household brand for brass, copper, and kansa products in the kitchenware, cookware, and home décor segment. We are reviving India's only UNESCO listed craft form of Thatheras from Jandiala Guru, Amritsar, who hand-hammer these products. This set up for Brides Today involves everything essential for a cuisine—it has thalis, patilas, ladles, jugs, small serving platter, roti dabbas and  many more. In addition to these products, there are napkins and table runners, which have been beautifully crafted by women in Ballia, UP. A table should incorporate all the elements quintessential for a healthy Ayurvedic meal: copper for drinking, brass for cooking, and kansa for eating. All three metals help to have a healthy digestive system and contribute towards strong immunity. This table sets an example of traditions blending with trends."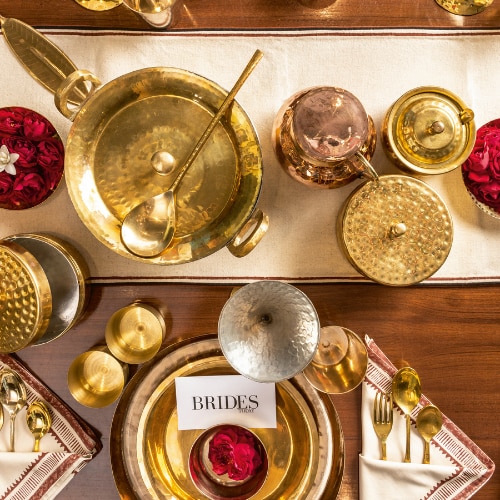 Kalyani Saha Chawla, Founder of Rezon Luxury Silverware 
"Rezon Luxury Silverware is a brand that meets many requirements in the luxury décor and gifting market. We provide all dining needs—from caviar bowls, table lamps, and even cigar holders! After a difficult year, we can all agree that intimate gatherings and in-person conversations are quite cherished. Our sets are unique because they marry traditionalism with modernity making each design contemporary and distinctive. I have always enjoyed making every table setting unique. Placing different designs on each placement is a conversation starter! Flowers, centerpieces and accessories, when layered together, make the set up visually appealing."