Lush blooms and glittering jewel-encrusted headbands were very common on the runways, and we can already see brides picking these trends for their Mehendi ceremony or the cocktail night. And as for makeup, plum pouts were a pleasant surprise from the nude lipsticks we've been seeing everywhere.
Ready to see which one of these wedding beauty trends from Fall 2020's Bridal Fashion Week will end up as a part of your wedding day look?
1. Hair Bouquets
Models this season were seen carrying an entire bouquet's worth of flowers in their tresses and we're, nothing but, charmed. While floral headbands or bouquets might not be apt for your traditional ceremony, the look is undeniably romantic and can be incorporated perfectly in your day Mehendi ceremony.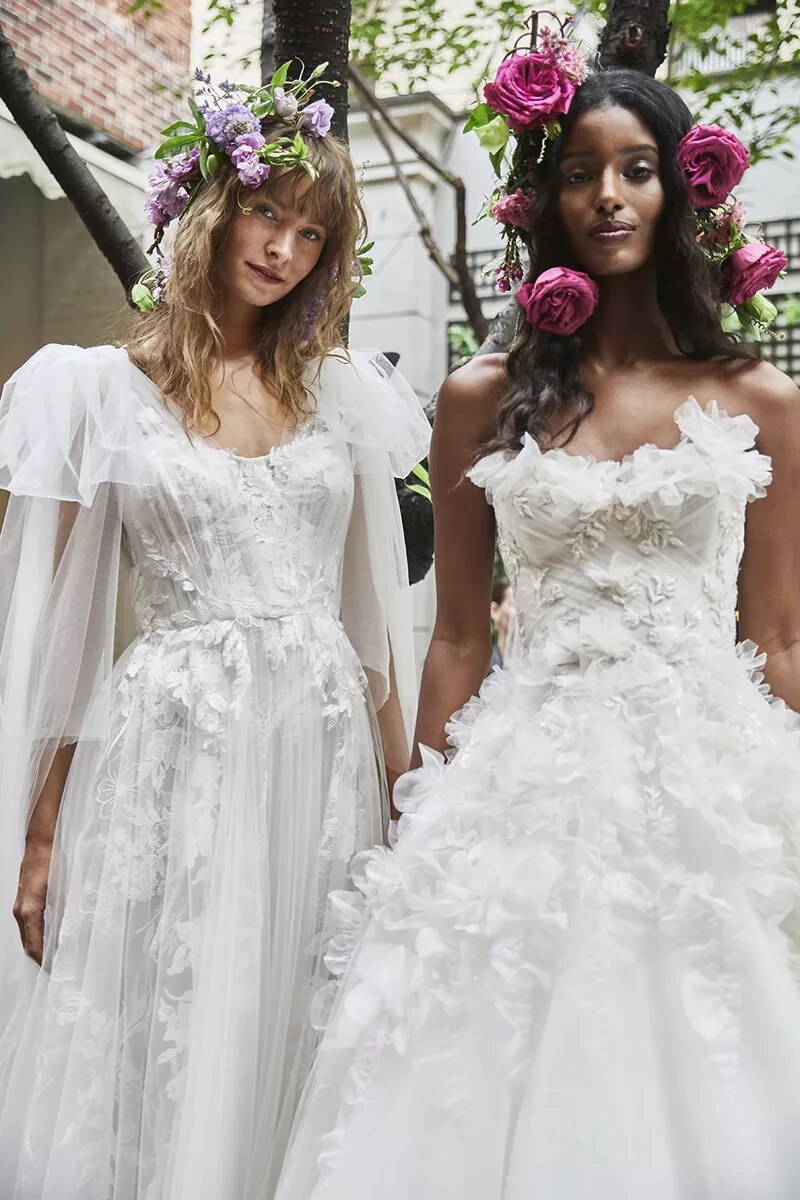 Coni Tarallo for Marchesa 020
2. Embellished Headbands
Embellished headbands stole the shows this fall-winter and it seems like this trend isn't going anywhere. From Quatorze's dainty gold ones to bold, pearl headbands from Dolce & Gabbana, this trend is your way to feel like a whimsy princess on your D-day.
Heather Waraksa for Berta
3. Wine-tinted Lips
Wine tinted lips were not just a hit on the bridal runways but also the couture runways and the Bollywood red carpet too! While some may see it as an unusual choice for brides, purple lip hues can be incredibly flattering, and you can choose from a berry-tinted gloss to a deep, plum, matte lip.
View this post on Instagram
4. Dainty Bows
Hair this season was decidedly feminine with styles featuring big bows and tied back with both silky and velvet ribbons. If your hair is more out of control, you can hop on to this trend with bow-topped headbands, like this one from Miu Miu. Who doesn't want their hair to look dainty, held together with ribbons and bows?
Heather Waraksa for Lela Rose
5. Bejewelled Faces
While graphic liners were a definite trend on the fashion runways, the wedding ones saw a bejewelled version of it. From stark white eyeliner to shimmery green shadows, to even face gems around the eyes, this wedding season surely caught on to the glitter.
BHLDN (Beholden) by Anthropologie
6. Crown Braids
Every princess bride needs a crown and bold, whimsical braids were the crowning touch this season. Wear them roped around the crowns of your head for a dreamy look that'll stay put from the ceremony through the reception or go for a full milkmaid braid for a softer and more romantic look.
View this post on Instagram
7. Rosy Lids
Soft and subtle rosy and peachy hues were popular this season, adding a healthy warmth to eyes and complexions. The look is a subtle one that lets your natural beauty shine on through, without colour overpowering the natural glow of your face. This fresh-faced trend is the easiest to adopt from all runway trends.
View this post on Instagram