Skin Deep: The Best Summer Skin Care Tips
Focus on skincare- from flower synonyms with weddings to tracing potions for enriching every body part.
Photographs by: Hormis Antony Tharakan. Fashion editor: Shaurya Athley.
As a bride, you will opt for at least one midriff-baring outfit. Prep and prime your waist by exfoliating it weekly with Goop G.Tox 5 Salt Detox body Scrub, Rs. 2,950, for a polished look on D-day.
Your collarbones become the focal point when you put on your necklace, so brush them with a swish of Sephora Glow Stick, Rs.1,100, an illuminator that highlights and adds the extra glow.
Every bride ensures everything about her wedding is customised. Extend the resolution to your skincare too. Try the custom-blend Clinique ID, Rs. 3,800, that's based on your skin's specific needs.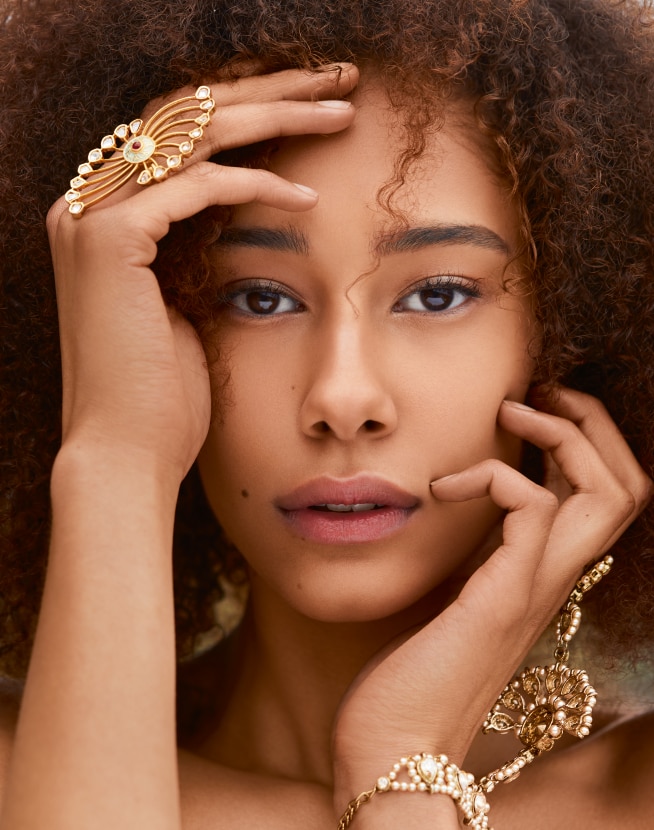 When you're stress-free from inside, it will reflect on the outside. Indulge in some 'me time' by signing up for a wellness festival like Sweatlife, London, or Wanderlust, California.
Sculpted arms are a combination of a fitness routine and daily nourishment. Go for Forest Essentails Sensuous Body Massage Oil, Rs. 1,750 (100 ml) and get the toned look.
Respecting and aptly nourishing your mane is the first step of embracing its natural state. The second step is to support it with products that do exactly that, like Kérastase Aura Botanica Bain Micellaire Shampoo, Rs. 2,050, and Masque Fondamental Riche Hair Mask, Rs. 2,300.
Oils could possibly make any other potion obsolete when it comes to hydrating skin. Drench your face in a gold-flecked potion like The Beauty Co. Rose Gold Beauty Oil, Rs.1,250, a multi-tasking elixir that gets absorbed into the skin almost instantly and works wonderfully as a base for your makeup too.