Symbolising a gamut of cultural aspects, the bindi holds spiritual and religious significance beyond one's imagination. Besides popularly being known as the 'third-eye' penal chakra to ward off bad luck, the bindi is also representative of a wedded woman. A sacred symbol of the cosmos, it is said to retain energy and strengthen concentration, while being placed on the forehead on the seat of concealed wisdom. Moreover, let's not forget that the bindi is all things luxe, glamorous and the perfect way to amp up your attire a notch!
With Bindi Babe, the home of unique and inspiring bespoke bindis, you get the opportunity to give your ensemble a traditional touch and how! Brides Today spoke to its founder, Mayurie, to give you a low-down on the rise of the trendy bindi.
How did this platform come about?
"BB was actually an idea that came to me on a late evening whilst in my university library! In attempts to avoid an assignment, I could feel myself concocting an idea. It wasn't long before I came up with the name, followed by the logo. Within the next week I had my first design ready! It was the year 2014 and the timing couldn't have been more perfect. With no known competitors, I nurtured my ideas and gradually started preparing projects over the years. I've always desired to have an additional source of income, and my flair for haute couture, eye for design and life experience, turned it all into something truly amazing."
What is Bindi Babe? Tell us about the services it provides, it's motto, etc.
"Bindi Babe is essentially the home of the Indian bindi.Often referred to as 'The Bindi Innovator', I design and sell unique bindis and jewels for all, across the globe. Interestingly, I have noticed a shift in trend, with brides seeking something a bit more personal. The bindi, at times, has been taken for granted. But it's always that unspoken feature that attracts such admiration, respect, beauty and wisdom.
Keeping in mind sustainability, BB aims to work with 100% recycled paper or t-shirt cotton for packaging. We have quality designs which can be worn up to 4 times and there is no need to dispose as a little glue goes a long way. As part of the strategy to create a jewel that can't be thrown after use, Bindi Babe urges you to be innovative with your look, whether it be for a glamorous evening, for work or even otherwise. Bindis also make for the most special gifts and if anything, the brand wants to help inspire its wearer to live bold and beautiful... or simply just be inspired! The 'Bindi Love' is a steady movement and I wish to contribute to it in every which way.
From brides, to models, celebrities, athletes as well as the Indian women, #BossBabes wherever they may be, BB has allowed them to express their individuality through one medium, by building a network on a global platform. Being the leader in it's own niche market and expanding one day at a time, the company is now designing unique jewellery as well. We are currently in the process of developing our first-ever 'Bridal Collection', looking to launch in 2022, and we couldn't be more ecstatic!"
BB Bangles
"Our current services also include creating customised designs at request and hosting the BB Beauty Bar, adorning guests at festivals and functions worldwide. I solely run all aspects, alongside designing. I do it all! And at times, I consider BB a passion-based business because of the brands exciting projects and investments, like creating the world's first diamond bindi!"
The BB Beauty Bar
The Diamond Bindi
"I'm currently also working with leading experts to develop a more luxury accessory in the Bindi market, and hope to exhibit the first creation alongside Bindi.Art."
"With an innate love for the arts, haute couture and fine jewels, I myself am a global Indian who has always had a vivid imagination, combined with a logical approach when it comes to creating, designing and writing. I have applied my love for writing and run the BB blog and 'The Diary.' It includes a series of short stories covering taboo topics, dedicated to the brown babe, but also very much relatable for all women."
"I get Bindi Babe to collaborate with artists all across the globe, whether it be illustrators, musicians or the recent collaboration with Reena Paints, where BB Bindis were applied to her recent jewellery box painting of actress Mehreen Pirzadaa. This piece of art is to be auctioned for the Sakhi's women's trust in New York."
"My journey of creating & bringing awareness towards the bindi, jewels and the Indian culture started with a small idea. I'm reviving the once classic dot, by bringing along the historic values and rich cultural depth of my Indian heritage, mixed with an innovative twist. I can't help but include a little bit of my British-Asian style. BB is dedicated to inspire the modern woman, the babe, sometimes overlooked or taken for granted."
What do you think is the significance that the bindi holds for a newly-wed bride?
"Bollywood and history tells us (and like most large cultures, it has many variations) that Indian women wear the red bindi as an indication to the world that they are married. It's the desi wedding ring essentially. But for the Indian Bride on her actual wedding day, not only is it an adorning accessory but indian Bridal makeup is incomplete without the characteristic brow bindis which are red and white in color. These eyebrow miniature bindis complete the ritualistic bright red bindi in the center and it looks like the full moon with small stars. One of the most characteristic features of an Indian bride's face are these small red and white bindis, which, over the course of time, have become more ornate."
Do you have any Bindi advice for brides to keep in mind for their big day?
"There are only a few adornments that set the bride apart from the rest and the red and white bindis are one such thing that bring out the true beauty of the bride. When wearing the small bindis over the eyebrow, the makeup artist must ensure that the bindi art suits the bride's forehead type. Brides with smaller foreheads should opt for smaller-sized bindis that are widely spaced apart whereas the ones with a wider forehead can opt for the bigger and more elaborate ones."
What significance do these red and white bindis hold?
"The red and white bindis symbolise Goddess Parvati who brings in good fortune. Furthermore, there is a special significance of the colours white and red, wherein the former stands for peace and tranquillity and the latter stands for love and matrimony. An Indian proverb that sums it all- 'A woman's beauty is multiplied a thousand times when she wears a bindi'- holds true!"
What are the latest bindi trends for the year 2020?
"Blissfully, the bindi isn't a trend but they have become a popular accessory at festivals. Here is Bindi Babe Nikhita wearing bindis at Coachella."
"For brides we are noticing a shift with the classic dot becoming more a part of the tikka. Simple designs where the diamond gems are tiered, descending in size, only need to be defined by a statement colour to depict a more trendy, yet chic bride to be."
"The bindi, it's a statement. Bindi Babe are committed to delivering the ever-lasting, classic yet impactful joys in life. Living environmentally friendly, being happy, feeling loved and doing well, whatever you put your hand and head to. Your bindi just makes you trendy because you own it when you wear it."
How has the bindi changed over the last few years?
"Like the Indian woman, the bindi doesn't need to stretch itself to change. At BB we've found that it's perfect as it is. With such a rich history from where it all began; what it has to offer visually, as well as spiritually, you simply can't change the classic dot and you wouldn't even want to. However, that in no way indicates that the bindi doesn't have the potential to evolve itself with time. The modern woman experiences the innate desire to grow, beautifully! Inside out.Whether its small, large, tall, short, velvet or gem filled, the wearer embraces their inner woman. There begins the evolution."
"Sometimes, when you're inspired or aiming to inspire, you can feel change. You can see it in fact. It's been a very creative journey at BB, helping lots of women across the globe to embody the bindis original meaning in a newer, bespoke yet unique form that suits, compliments and accentuates their best sense of being."
What are the coolest and trendiest bindi designs you have to offer at BB?
"It's extremely hard to choose the coolest since they all are so unique!"
"One of our best sellers is the set 'Morouj'which I named after my 1st, best friend from primary school. It carries the same intricacies, details and material, through a variety of designs and colour, which always seems to give each wearer an aura of 'badass beauty' in a very authoritative yet luxe way!"
"But my personal favourite is 'Simplicity'. I'm a lover of freshly cut diamonds and this design is the 'Tiffany's' of bindis."
What is a customer favourite and a go-to popular bindi trend that never goes out of fashion?
"Bindis across the brows! As mentioned, an integral part of Indian bridal makeup, it's truly iconic as seen on lots of Indian brides going for a more traditional look."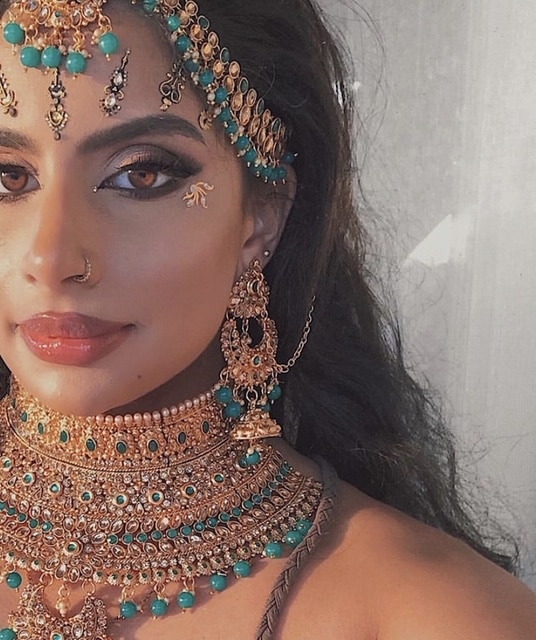 "Brides at BB tend to spend more time focusing on the colour. From rich reds to bold blues, bindis across the brows are defined and owned by their colour (and placement too). It was through some of my first creations that I included small gem bindis across the eyebrow. I don't know if that will ever change because of the way it shines. Gems that sit closer to the eyes are a magical look when curated well."
"Lilacs and Purple have also been a fresh addition and new found favourite, especially for bridesmaids."
In different parts of India people style the bindis differently. Can you tell us some of many ways brides wear bindis, why they are different in different regions and it's significance?
"The bindi art for brides hailing from different states is truly remarkable.It is commonly seen that a lot of North Indian brides prefer jewels and usually opt for gems like Bindi Babe. However, Bengali brides go for the big traditional bindi in the middle and the traditional red and white dots and embellishments that are painted on, commonly known as Chandan. On the other hand, Marathi brides don the traditional crescent-shaped bindi in the center and pick up the look with colourful designs and dots around the eyebrows.As per Ayurveda, the bindi also has a physiological significance as it is placed on the forehead which controls the nervous system and is an acupressure point that maintains good flow of blood."
Do different shapes, sizes, colours of bindis, have different meanings?
"Yes! But that doesn't mean that you can't wear each at a different point in time. The bindi has certainly developed past its traditional setting, signifying that a woman is married. However, tt still serves a purpose in more rural settings of course. Many great women have started these trends from their own imaginative idea of what they would like to wear whether it's made from sindoor or eyeliner. I was inspired by my maasi who used to create her own version of a bindi with her liquid eyeliner! I now pass this onto the BB networking as part of the bindi inspiration!"
"However at BB, sets like 'Dotty' which include many shapes like the classic dot, small gem, tear shape and star all signify something special to the wearer! Dotty is set to update again and include the crescent shape which will be glow in the dark."
Can you give a piece of advice to all the beautiful brides out there?
"Whenever planning and feeling overwhelmed, "Be still and ask yourself, what is the next best thing to do." If you are in need of a very special accessory for your wedding, whether it be for yourself, bridesmaids or guests, you need not look any further. Bindi Babe is happy to help and would love to connect and work closer with you! Whether it be the Beauty Bar or creating your customised design, it's a journey that takes careful and considerate planning. An exciting moment we'd love to assist with. Connect with BB via Instagram or www.bindibabe.online to see all the exciting things we do."