At a time when heritage brands are being acquired by luxury conglomerates, The Gem Palace continues a strong family venture. Kasliwal attributes this to the strong family values that are at the epicentre of Jain culture. "This is an undoubtedly important value to have in the balance of a family-run business, especially after so many generations. This said, also some good business acumen did not hurt either," he laughingly muses. The Kasliwal family has had an uncanny ability to reinvent its brand to catch pace with the times without losing sight of tradition in the process. And what design philosophy contributed to their success through the years? Kasliwal says, "I believe that the most important thing for a brand like ours is to always strive to look forward in terms of design, allowing yourself to not get stuck in old ideas while being very respectful of the traditions, both in craft and aesthetic, which are at the base of our line of work."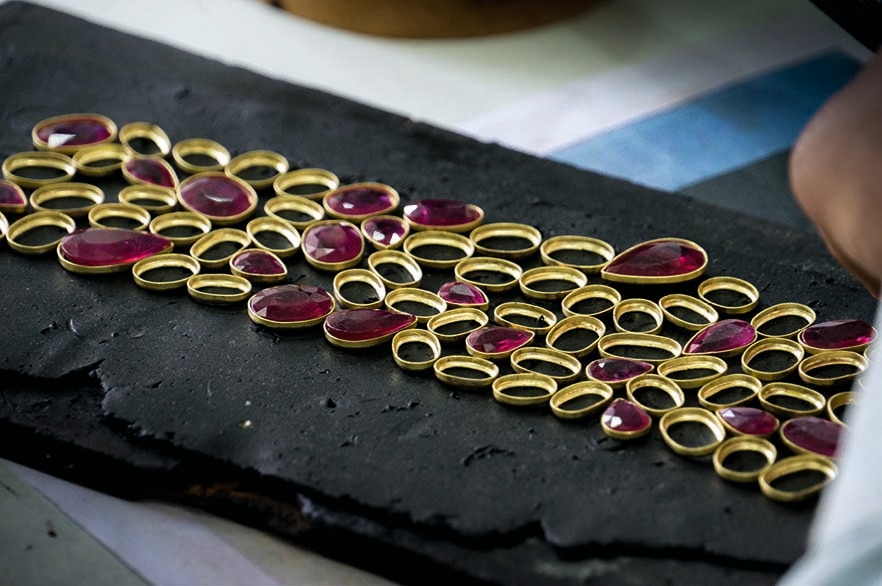 Spearheading a family business of nine generations at such a young age comes with its fair share of challenges. He narrates that he must constantly adapt to the house's selection to match the demands of the market. As they try to innovate, they must also inculcate the traditions and the generations of craftsmen who have worked to build The Gem Palace. "We also work on collections that are very traditional, such as our Raj collection that consists of traditional Kundan and Meenakari. The baseline is that some pieces are timeless and are as wearable today as they were 100 years ago," he elaborates. As in the case of most artists, design is not a planned activity for Kasliwal. Whilst dividing time between managing their shops, supervising production as well as personally to clients, he pens down a quick sketch or a motif when inspiration strikes.
The intercultural exchange between Indian jewellery and the European aesthetic in the Art Deco era serves as his biggest influence in jewellery. He constantly looks at all sorts of art forms in search for inspiration, maybe a painting, sculpture or even architecture. Both his native countries, Italy and India, offer, in that sense, an endless source of inspiration, he informs us. One of his all-time favourite designs is a ring for which he took inspiration from the façade of the Cathedral of Orvieto. Throwing light upon the work of his contemporaries and peers in the industry, he wittily says, "Never ask an artist's opinion about another artist's work. You will rarely get a straightforward answer."
Gemstones have always been the focal point of jewellery at the Gem Palace with Kasliwal being particularly drawn to emeralds. "Hardly any emerald will be perfectly clear but it is that small aw that will make the stone unique and give it its life and character, " he adds. His designs are almost always driven by gemstones and some designs can even "take years to complete" until he has found the perfect gems to complement his design. Since The Gem Palace have been purveyors of traditional bridal jewellery for generations, we ask him to give millennial brides-to-be some words of advice when buying jewellery for her trousseau. "My advice to a 2019 bride would be to choose a majestic bridal set that she will treasure forever but also that she will be able to wear on several occasions in the years ahead," he says.