Jewellery is often considered one of the most important components of a bride's outfit. In Indian culture, jewellery is not merely an accessory that a bride adorns but holds great cultural significance and is often passed down as family heirlooms through generations. As the saying goes, something old and something new—seems to be the trend for the modern bride. Jewellery is no longer meant to be stowed away in a locker after the big day, traditional pieces like a Kundan choker, maangtika, or a satlada are getting a modern upgrade for brides to wear on occasions beyond the wedding. Imbibing these societal changes in the way brides dress is designer Manish Malhotra who recently collaborated with Raniwala 1881 to launch a jewellery collection, that shakes off the rigidity of traditional jewellery, and gives brides a fresher, younger take on the same. We sat down with the celebrated couturier and the founder of Raniwala 1881, Abhishek Raniwala to know more about the collection.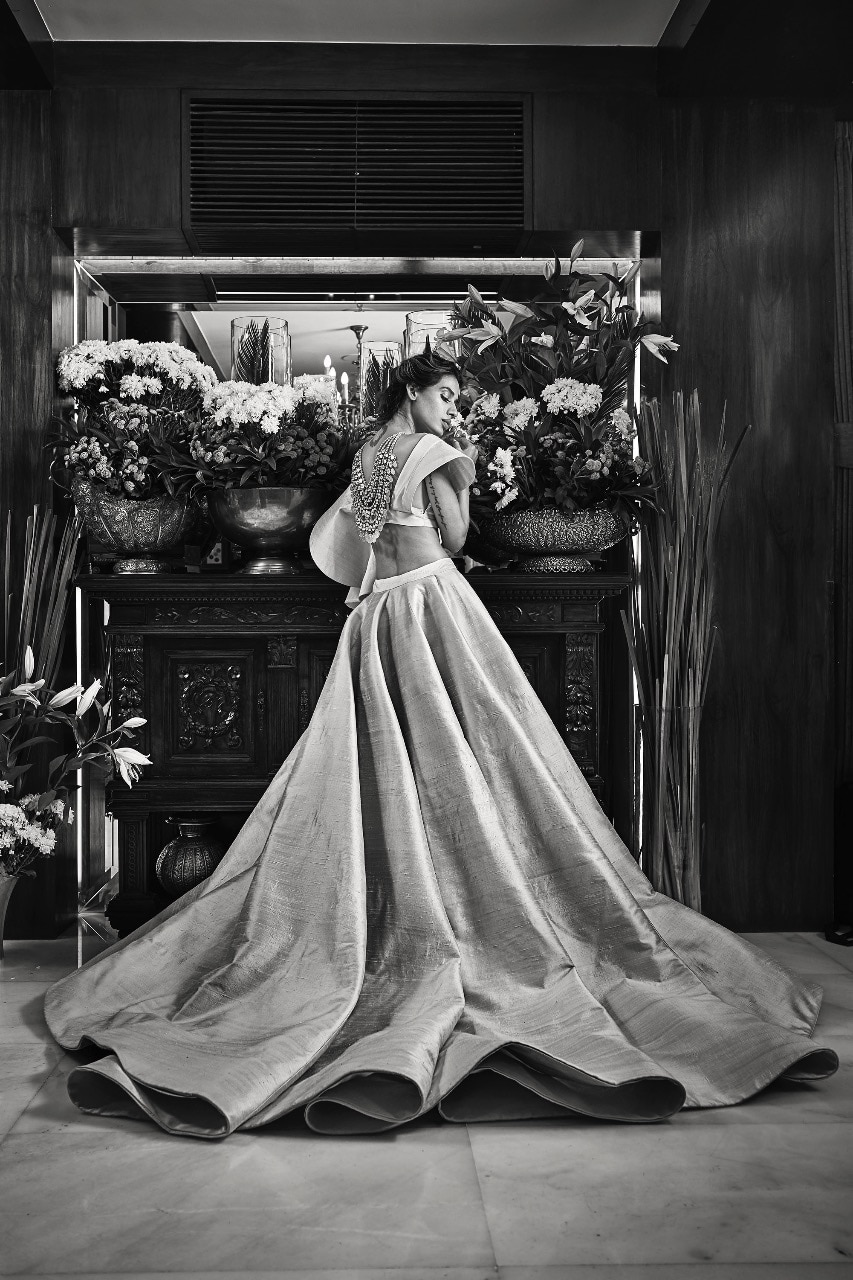 Manish Malhotra, Designer
How did the idea of creating a jewellery line come to you?
I've always been a great fan of jewellery. I started the entire concept of look in movies way back in the '90s. I used to love creating jewellery for the actors, we used to create silver matching beads on the jewellery, put little crystals and break the big pieces and string together with other materials to make it look like something that complements the garment. So, I think I'm starting late. Costume designing has helped me understand the importance of the overall look and emancipated my love for jewellery.
You chose to collaborate with Raniwala 1881 to launch your jewellery collection. What is it about the brand that struck you?
We have partnered with Raniwala which is a Jaipur based company since 1881. They are very reputed in terms of quality. The main factor of this association was keeping the matter of fact of their number of years of experience and unparalleled quality. Raniwala 1881 has a profound technical understanding of jadau jewellery. With them, we would like to reinvigorate this traditional craft and present it in the most extant form. Besides this, our jewellery will make a difference by providing the best of both western and Indian design sensibilities.
How does Raniwala 1881's aesthetic of traditional heirloom jewellery tie in with your clothing?
The designs are a wonderful mélange of western and Indian design trends that is core to our label. We see fusion jewellery gaining good demand. The expert knowledge of the right stones, combined with the finesse of shaping, placement and mounting of rare gems from Raniwala 1881, enhances the value of the piece and makes it different from the others. There's a lot out there already, we are trying to create something that is the need of today's day and age and something that has a need and is unique and absolutely compliments the wearer's look. A lot of uncut and colour precious stones, uncut that are modernized and chokers that are revisited to make it newer age. A lot of diamonds, again uncut. Besides this, I love the delicacy of hanging diamonds, rubies and emeralds etc.
Are there any design elements that you have borrowed from your clothing and translated onto the jewellery?
The appeal will, of course, remain the same. The idea is to discuss and make something that is consumer-friendly and exudes the feel of the Manish Malhotra lifestyle. Like the jewellery that are old designs but are revisited to make it contemporary and relevant. Conceptualization of the jewellery is modern. We think of the person and the trend both at the time while we are conceptualizing the jewellery. The idea is not to give something so unique also that doesn't match the client and also not keep it basic that will not stand out.
What kind of jewellery a bride can expect from this collection?
Fashionable, light-weight, and multi-purpose. It will be both trendsetting and trendy.
How would you describe the quintessential Manish Malhotra bride?
She is full of glamour and sensuousness. Manish Malhotra brides is the one who doesn't shy away, she doesn't mind the attention and becoming the focal point of the event. She wears her personality in true form.
These days' brides are looking to invest in transformative jewellery that can be worn beyond just the wedding day. What are your thoughts on that?
This is an all-inclusive age. Hence, everything is existing in this day and age. Trends are not that much of importance than the wearer, theme, season, occasion and location. So for me, there are newer nuances to things but the design is forever and everything is trending at its own place in its own way.
Abhishek Raniwala, Raniwala 1881
What was the idea behind collaborating with such a celebrated couturier like Manish Malhotra?
We as a company have been trying to transition our traditional bridal jewellery to something more upbeat for a modern bride for which Manish Malhotra comes as a natural fit. He is the epitome of the modern world, it is contemporary design that Manish Malhotra is all about.
Craftsmanship and heritage value has been very important to Raniwala 1881, so how has that element been maintained intact with this collaboration?
A2.) The art of making Jadau itself has heritage value attached to it, it is very vintage and very royal so we have treasured that and kept it the way it is. The transition that we have done only reflects in the design. Craftsmanship and art are still the same. However, the modern elements are exhibited in the lightweight quality and colour palette of the pieces.
Could you describe a couple of elements that you have used from Manish Malhotra's clothing?
If you observe Manish's clothes, they are very modern. The pastel colour palette speaks for the fashion label's persona. We have tried to take the colour scheme and incorporate that in our collection. The green colour of emerald known as the Dakshin emerald, what we have done is that we have amplified it and incorporated that in our collection. We have used a lot of different shades and also experimented with the shape of pearls so that the energy between the jewellery and the energy remains the same.
Could you please explain further the ideation that was involved in the design process?
We started by putting some pieces together and then later added colour stones and pears to it. So this collection has everything from mathapatti to haathphool, chandbali to light necklaces. It is a complete set for a bride.
Could you tell us a little about the transformative pieces in this collection?
What Manish and I felt was that the millennial bride knows exactly what she wants and she would want to wear her jewellery post the wedding as well so what we have done is that instead of making one big piece, we have made two pieces so for the wedding the bride can wear two and make it look heavy whereas if she wants to wear it somewhere else later then she can just wear the single one.